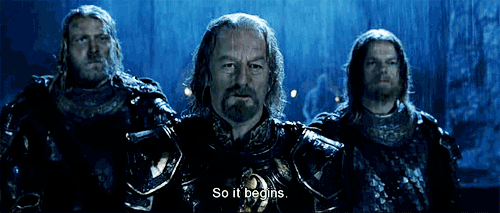 This gif here expresses my feelings when I arrived at IWA 2018. And why is the feeling similar to the Battle of the Hornburg. The answer is multilayered one. First thing that comes to mind are the untold droves of visitors, second in the neverending walk through the exhibition halls and I mean HALLS. This things are huge and there is 9 of them.
As I am interested mostly in airsoft and survival gear that narrows me down to 3 halls that I can somewhat easily navigate through. My first and only tip for all you future visitors is: keep your map near and wear comfortable shoes. Everything else is battle with chaos.
This years IWA was my  5th one already so I am quite a veteran traveler and on somewhat first name base with few of the exhibitors. But as you probably know, airsoft news stays the same even when employees at companies change.
This year was the best year in my opinion as the management of IWA decided that enough is enough and really cranked on "illegal" attendance. In the previous years there was a lot of "fake" news reporters that used their charm and swindled companies out of merchandise and gave nothing in return. So the mistrust has grown to the point that the management decided to intervene for the sake of us all.
This years novelty was also a designated place for social media influencers that manage their instagrams, facebook, g+ and other. I really like this idea but I am somewhat concerned for the future of airsoft. What will happen when stricter gun laws will be passed. Will that also affect us airsofters? We have all seen what happens when Youtube closes airsoft channels, Instagram bans the promotion of airsoft merchandise and Facebook silently moves your gun interests further down the line of what you see. That is one of the reason I am still sticking to this webpage format as I have full freedom what I publish.
So in the next few days you will find links to all the news I could found about new products from your favourite companies. These links will be updated regularly and for your convenience  they will all be linked on this page. Just click the name of the company to get the news.
If you just wish to browse through the pictures you can find them in PHOTO REPORT HERE
LINK TO ALL IWA 2018 CONTENT CAN BE FOUND HERE