2020 began with a nice bang. So as always FireSupport is offering its massive give away for all online orders.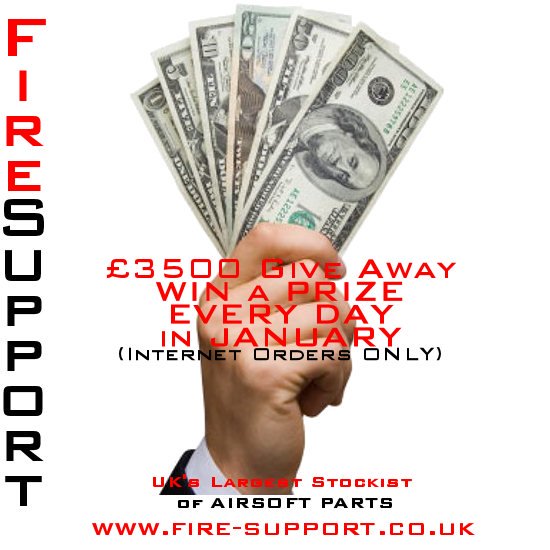 £3500 worth of prizes
Every Day in January win a prize from the list below
INTERNET ORDERS only to Qualify
2 chances to win
Each day a winner is picked from the internet orders placed that day.
Then at the end of the month all internet orders from the month are then used to pick a winner for the main prize of the Marui 416 delta Black upgraded and 4 mags worth over £700


Non UK mainland orders may need to pay extra postage to receive the prizes
Some of the prizes include
Marui Next Gen 416 upgraded and 4 magazines worth over £700
ICS L85 AEG
ICS M16A3 AEG
ICS M4 fixed stock AEG
£350 store credit
ICS MP5 A4 AEG
ICS LSW AEG
ICS APE Long Tan AEG
ICS MGL Black
ICS HOG DMR AEG
G&G Tan Metal TR4 M4 CQB-H Airsoft Gun AEG Gen 2
plus many more prizes