Cybergun licensed MRI Desert Eagle Mark XIX .50AE GBB Pistol
The Desert Eagle is a semi-automatic handgun notable for chambering the largest centerfire cartridge of any magazine fed, self-loading pistol. It has a unique design with a triangular barrel and large muzzle. Magnum Research Inc. (MRI) designed and developed the Desert Eagle. The design was refined and the actual pistols were manufactured by Israel Military Industries until 1995, when MRI shifted the manufacturing contract to Saco Defense in Saco, Maine. In 1998, MRI moved manufacturing back to IMI, which later reorganized under the name Israel Weapon Industries. Since 2009, the Desert Eagle Pistol has been produced in the United States at MRI's Pillager, Minnesota facility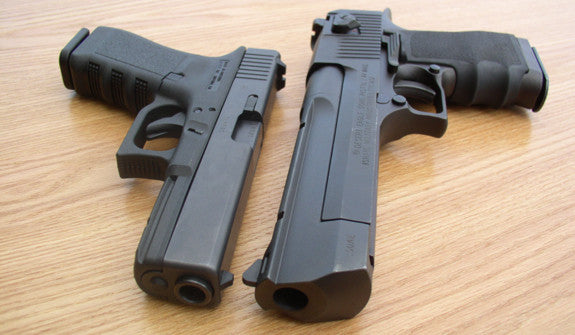 Desert Eagle Mark XIX
The Mark XIX is the current production model of the Desert Eagle, and the most likely to be seen in movies made since 2000, particularly in its .50 AE version (which is best known as the sidearm of the Agents from The Matrix). It was first introduced in 1995, and its most obvious visual difference from the earlier Desert Eagle models in that it features scope rails over the barrel (it also has taller cocking serrations on the slide). Unlike the earlier Desert Eagle models, the Mark XIX can be switched to any caliber simply by swapping the barrels. Later barrels have full pica tinny rails and a re-designed safety (whose design is a throwback to the safety of the original Mark I).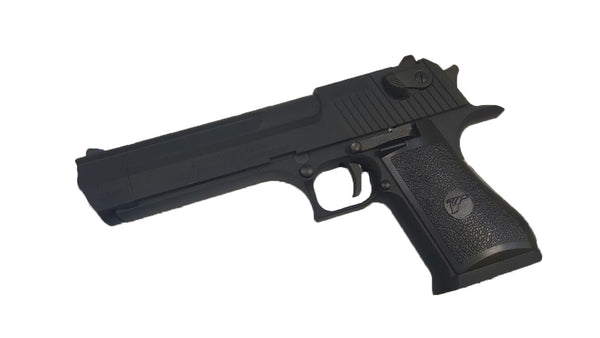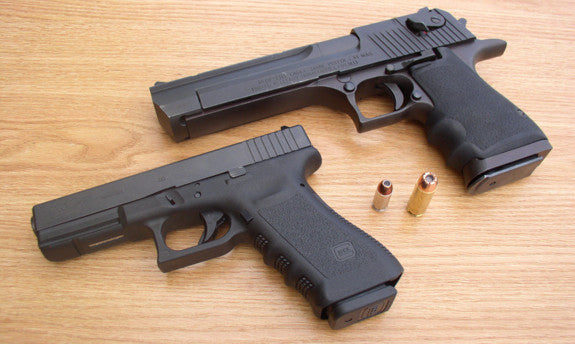 The looks
The first impression of the Desert Eagle (DE) Mark XIX is a big baby, the overall length is about 27cm and is about 4cm thick with 7 cm width on the pistol grip, big boys gun!! Authentic MRI markings licensed by Cybergun on both sides of the slide, the signature of MRI flying-eagle symbol on both sides of the grip panel . The grip panel is made of plastic instead of rubber, but it still good enough. The slide and frame of this big pistol is made of aluminum alloy, it is much lighter on the weight than it looks. Overall weight of the DE Mark XIX at approximate at 1.4kg, you may feel the weight and balance is a little bit off forward on the barrel without magazine, once you loaded the magazine up, the weight will be perfectly balance. About capacity, it loads 30 rounds bb per clip.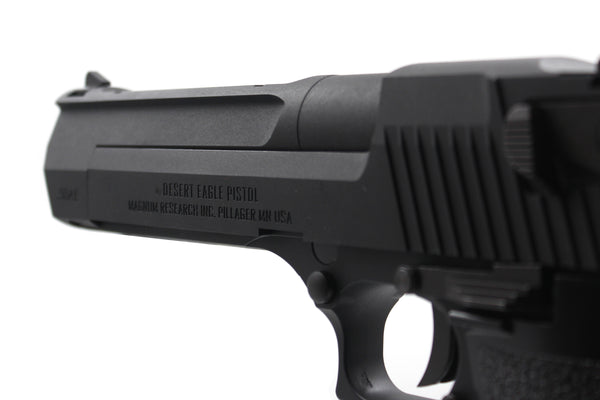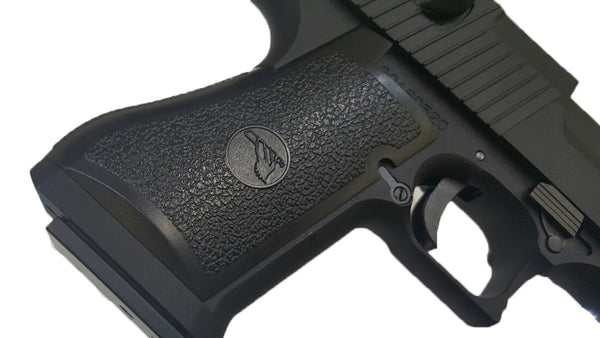 Details
Gun details, the DE Mark XIX features metal made front and real sight, ambidextrous enlarged safety lock, easy-to-reach slide release can be function as thumb rest and hammer, large slide serrations give ability easier to cock the gun. The top of the outer barrel features as optic-rail.  Different with other DE models in the market, this Desert Eagle mark XIX 50AE is World first GBB replica pistol features full slide stork action, and realistic field stripping steps. You can feel the powerful kick-back recoil with the large gas magazine tank and enlarged air nozzle. Chronograph test, the firing power at approximately 1.2j -1.3j with 0.2g bbs.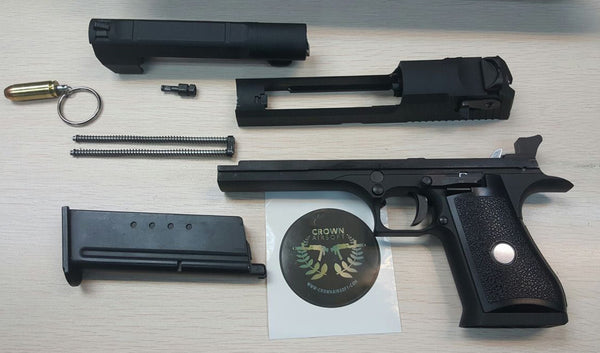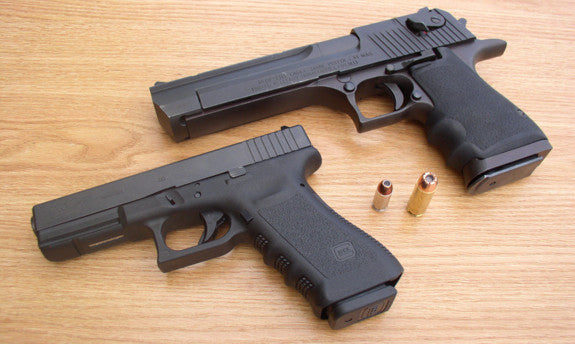 Overall, this Desert Eagle (DE) Mark XIX is the best DE replica model for me. it is a model with metal body and frame, Hi-power kicking recoil, realistic field stripping, I'd give 8 out of 10 points. For more details and firing test, please click on the video below: