The evolution of eye-pro is moving forward on the daily basis. In the airsoft world we have came a long way since using the work force approved eye protection. Same thing is happening also in the army but their solutions cost hundred of dollars and are useful only in the army as their requirements are way higher than in our airsoft world. But ergonomically you can't beat around the bush as the new solutions work great. So here comes the new FMA addition to the eye-pro line, the BATLSKING VIPER VISOR.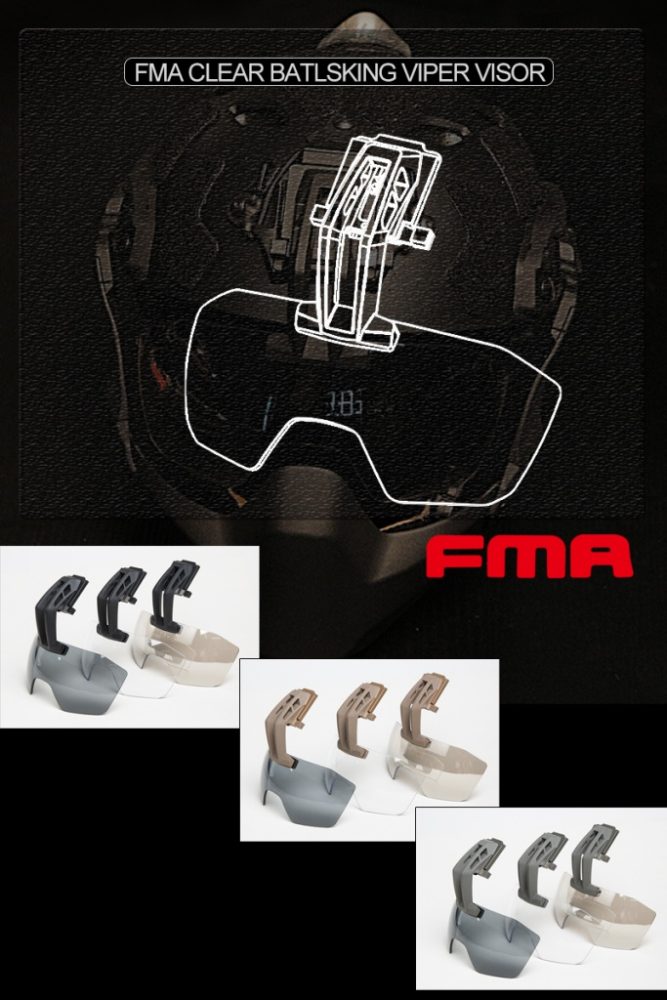 Manufacturer: FMA
Material: nylon +PC lens
Weight: 90 g
Reinforced anti-fog lens, lens thickness up to 3MM, enhanced surface treatment, special coating treatment, more durable than ordinary lenses;
Lens contains anti-fog coating, the lens encounter water vapor will not fog, with the nasal spray of hot air is not affected, will not fog, keep a clear view.
The FMA Batlskin Visor is a lightweight and easy-to-use protective enhancement to the  Head Protection System.  It provides flawless optics to ensure the Warfighter is never distracted from the mission, while its unique pivot arm allows for three in-service positions: up when not in use, vented for cooling, and locked in the down position to protect against movement during blast and ballistic impact.
The FMA Batlskin Visor is a great accessory for operators in exposed positions such as turret gunners or sentries.  It also works great as eye protection when driving open cockpit vehicles like ATV's and Motorcycles.  Easily clipping into the BATLSKIN Front Mount, the Visor System can be quickly donned or doffed as the situation develops.  The lens is optically engineered for flawless optical clarity, meaning there is no distortion to the wearer's field of view.