KingArms is one of the leading manufacturers of quality airsoft guns. Their range goes from AEG, GBB to spring and gas powered sniper rifles. All in all they have well rounded selection of plastic slinging guns that will be staying with you for a long time.
This time they came up with this beauty.
The PDW 9mm SBR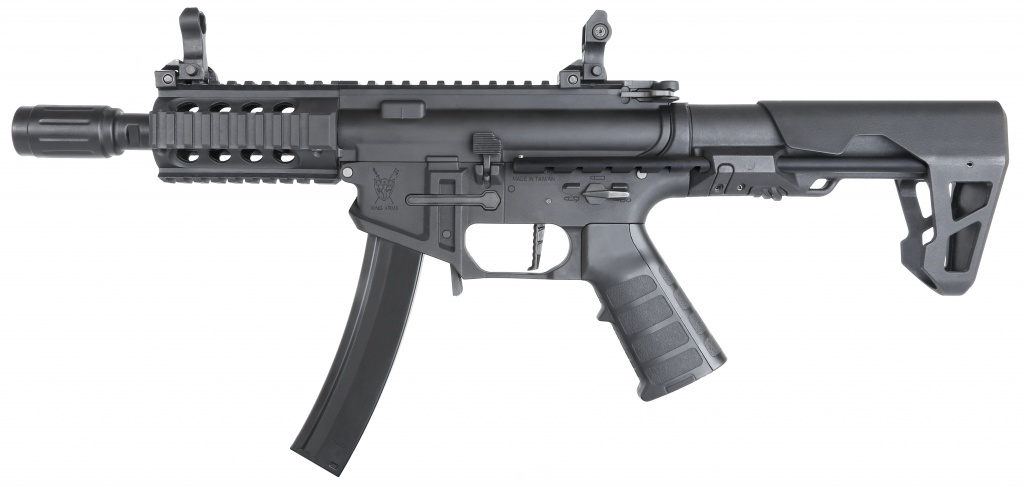 Some detailed specifications about PDW 9mm SBR
Length max: 630mm
Length min: 530mm
Weight: 1.745g (without magazine)
Barrel length: 135mm
Calibre: 6mm
Hop-Up: Adjustable
Gearbox: V2 with quick spring change and Mosfet
Motor: Long
Energy: c.a. 1,3 – 1,6 Joule
1.Tactical handguard
– King Arms Short Barrel Rifle PDW series available in different length of handguard constructed by high quality nylon fiber. This lightweight AEG equipped with durable nylon fiber 4 inch railed handguard.
2.Barrel
– Metal made outer metal to avoid wobbling. It also protect the well-polished brass 6.05mm inner barrel for a precise shooting.
– Rifle come with a new designed suppressor.
3.Receiver
–  Receiver was built by high grade Nylon polymer, providing a lighter in overall weight without compromising of longer resistance and durability.
– Stylish design of the receiver with chopped-off dust cover, together with good-looking fire-mode-selector, bolt release button, gives an eye catching outlook of the rifle.
– Vertical design trigger improve the flexibility of shooting and non-slip design increase the friction of smooth surface.
– Two ways magazine release levers allow faster operation.
4.Gearbox
– Highly calibrated 7mm bearing metal gearbox with metal spring guide.
– Equipped with a Mosfet triggering circuit that provides maximum accuracy.
– With feature of Quick Spring Change System, let shooter alter power spring easily.
– Hop up unit allows shooter to adjust the range of the shooting and the precision.
5.Ergonomic grip
– Built in nylon to provide higher strength and durability.
– Comes with 6 interchangeable front and rear inserts for a more ergonomic and personalized fit.
– End plate designed to allow a better motor ventilation and lower temperature while skirmishing.
6.Tactical stock
– 7 position quick pull and auto-locking system provides the fastest adjustment possible.
– Enlarged stock tube with a compartment for batteries up to 1400mah-12v. The compartment is easily accessible by operating the rear gunstock cap.
7.Sights
– Foldable rear and front sights.
– Rear sight comes with a double viewfinder for high precision shooting.
8. Magazine
–  MP5 double stack silent magazine with capacity up to 100 rounds. Standard dimension allow users buy spare magazine easily from the existing market.
– Compatible with any other Marui style mag that makes it easy to replace in case of lost.
Because every picture is worth 1000 words here you have the essay.