Christmas came early this year, one full day early to be exact, and in the form of SIG SAUER ProForce M17 pistol. Company that sent one for review was German Sport Guns, quite known supplier of excellent airsoft replicas. You can also acquire one from the official Sig Sauer STORE.
Now some official press release info that doesn't say a lot 
Designed for professional training, this high-end SIG AIR ProForce airsoft pistol is a replica of the U.S. Army issued P320-M17 9mm pistol in look, balance, and handling characteristics and engineered to SIG standards for precision, accuracy, and reliability.  
The ProForce M17 features a polymer frame and metal slide with full blow-back action. The proprietary drop magazine holds 21 rounds of 6mm polymer or biodegradable BBs.  An adjustable "hop-up" feature creates spin on the BBs for additional stabilization in flight, resulting in increased distance and accuracy.  A picatinny accessory rail allows for quick and easy accessory mounting, comes with an optic cut for the addition of the soon-to-be-released SIG AIR Red Dot Optic, and is available in 12g CO2 cartridge or green gas power options. 
 ProForce M17 Airsoft Pistol: 
Total length: 8.5"
Barrel length:  5.5"
Weight:  2.6 lbs.
Finish:  Coyote Tan
Muzzle Velocity using .20g Polymer BBs:

CO2 – up to 410 fps

Green Gas – up to 320 fps

Muzzle Energy:

CO2 – 1.5 joules

Green Gas – 1 joule

Caliber:  6mm BB
Magazine Capacity:  21
Power Source:

CO2 or Green Gas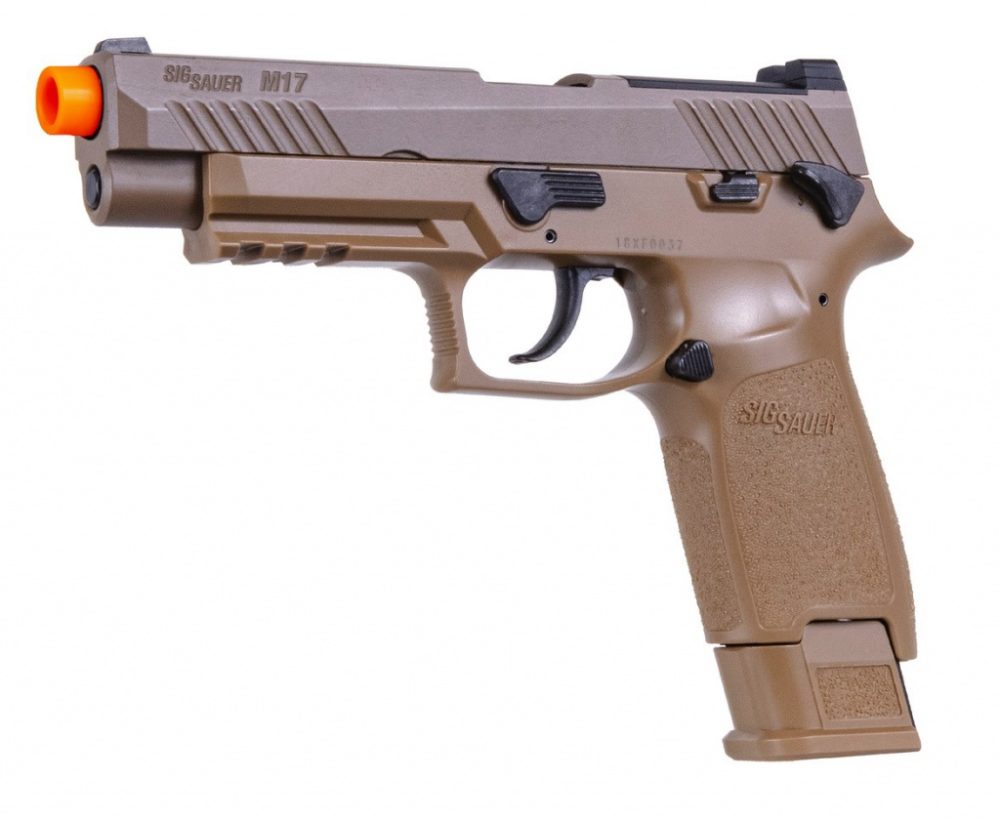 It is really pretty and one of more desirable pistols out there at the moment. But I did not have high hopes for it when it arrived at my doorstep. I was expecting some medium grade pistol and boy was I wrong in the end. And why is that you ask? The catch is in one simple detail. Sig Sauer decided that enough is enough and they have ended their cooperation with Cybergun. They decided to control the production from beginning to the end by themselves. So here is the end of crappy and wobbly airsoft replicas that plagued the airsoft world and the bright beginning of something awesome. In my opinion this shift of thinking moved Sig Sauer airsoft products to the top regarding quality and reliability..
And now something more about the pistol I reviewed. I must tell you that my secondary pistol for quite some time was an upgraded Tokyo Marui Mk23, which I extensively use in my matches. Until now I thought that you can't beat perfection of Mk23 but I must admit that I was wrong, as this new Sig Sauer M17 has blown my mind away. Yeah it is not exactly made for sneaking around but when not playing sniper it does it job really well.
First impressions when handling the replica.
The end release pistol does not look nothing like the announcement photos we got. In the flesh it looks even better.
I received a CO2 version and boy does it kicks ass when fired (is a bit of an CO2 hog so one 12g cartridge only lasts for 44 effective shots of 57 total)
HopUp adjustment is really nicely thought out (You adjust it without taking the gun apart with the turning of the guide rod (clockwise turn increases HopUp))
CO2 magazine is really well made and when changing cartridges no CO2 is lost. (Only downside is a bit tricky getting the spent cartridge out, you need to whack it a bit, but it is not a big problem)
It is light and fits my XL hands really nice.
Can slug 0,43g BBs precisely up to 50m (hitting a A3 sized target 20 times out of 22)
All in all a great surprise in terms of quality and performance and one of the pistols I would definitely recommend you buying for yourself or as a gift for your special airsoft enthusiast.
Some pictures for you to get a better idea.