RedWolf got some nice items in stock. Let me just present you a few of them.
EMG F-1 Licensed 15 3G Skeletonized Complete Rifle (Black / Blue Switch / RS-2 Stock) (by APS)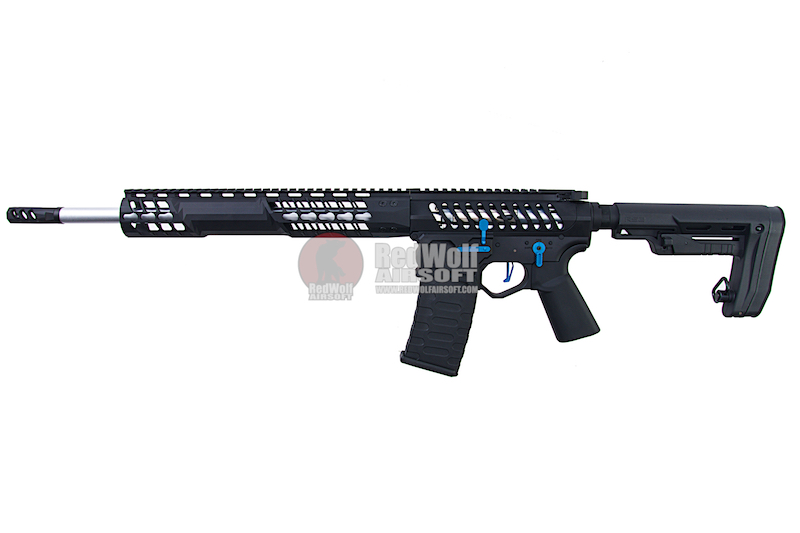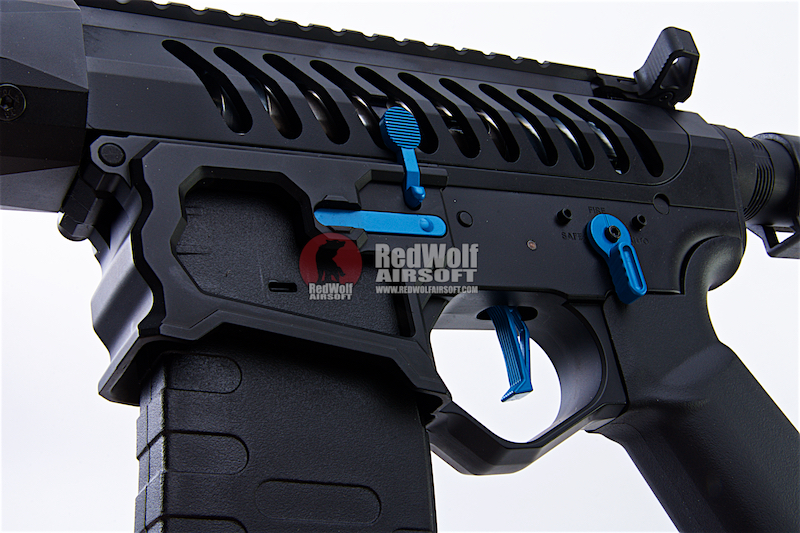 Features
CNC finished aluminum alloy F1 BDR-15 3G skeletonized receiver copies the styling cues of the original rifle
CNC machined aluminum C7K Countered KeyMod handguard allows for mounting of a vast variety of accessories, full length top rail accepts all common 20mm accessories
EMG special edition fully-upgraded quick spring change "Ultra Smooth" gearbox
High Efficiency gearbox only pulls 11amps at ~380 FPS, making this one of the most efficient gearboxes currently on the market
Ambidextrous fire controls allow for both right and lefty shooters
F1 Firearms licensed Dragon Slay muzzle device
Adjustable crane style stock
Anodized finish provides a vivid and long lasting finish that resists wear
This model of EMG F-1 BDR is completed with black surface coating, blue color selector, trigger, mag release, and crane stock.
Based in the great state of Texas, F1 Firearms has become one of the premier brands in semi-automatic sporting rifles. Utilizing premium materials and cutting edge manufacturing processes, F1 produces firearms that are lighter, stronger, more accurate and built to more demanding tolerances than their competition. F1 Firearms are designed to stand out from the crowd, with an F1 rifle, not only will you look better than the rest, youll shoot better than the rest.
The F1 Firearms BDR-15 3G is a rifle unlike any other seen before. Designed and built to be as light as possible without sacrificing any of the legendary F1 performance. The skeletonized receiver carves away at the rifles overall weight, all while not sacrificing any of the platforms strength and reliability. The C7K Contoured KeyMod handguard allows the shooter to add whatever accessories they deem necessary without the monumental weight of traditional railed handguards, the full length top rail provides a vast tract of space to mount optics, night vision or other accessories.
EMG has teamed up with F1 to produce the EMG F1 Firearms BDR-15 3G AEG training rifle. Built to specifications provided by F1, the BDR-15 retains all of the design and styling cues of its big brother, giving the user a unique and bold platform. Equally at home on the field or in a competition setting, the BDR-15s high efficiency gearbox provides superior performance in all settings. From the skeletonized receiver, to the KeyMod compatible C7K Contoured handguard, the EMG BDR-15 is a faithful recreation of F1s flagship AR15 line.
Length: 870mm – 960mm
Weight: 5.75 lbs
Inner Barrel: ~363mm
Magazine Capacity: 450rd Hi-Capacity. Works with Matrix, G&G, Tokyo Marui and other compatible M4 / M16 Series Airsoft AEG Magazines
Thread Direction: 14mm Negative
Gearbox: Ver 2 Full Metal, EMG Special Edition QD Spring Change High Efficiency
Motor: Long Type high torque performance motor.
Fire Modes: Semi/Full-Auto, Safety
Battery: 7.4v Buffer Type LiPo recommended (Wired to stock with small Tamiya connector)
Hopup: Yes, Adjustable
Package Includes: Gun, Magazine, Manual
Manufacturer: EMG / F1 Firearms
FPS Range: 385-410
Color: Blue
About EMG
The EMG vision is to manufacture products the world have never seen before, products we would put our names on it, and products that hits the spot! "EMG" (Evike Manufacturing Group) is spawned from the realization that if you want something done exactly the way you want it, you need to do it yourself and we did just that. It took them 16 years of knowledge as the market's lead retailer, network of 300+ superior manufactures, they work with top innovators in the firearm industry who inspires, combined with the vision to invest into the Airsoft industry they believe in, EMG was born.
About F-1 Firearms LLC
F-1 Firearms was incorporated in 2012 and was seeded by their founders decade old highly successful Information Technology Company. Their technological expertise and team strive to be the best in the gun manufacturing industry and this gives us our competitive edge. Together, they take great pride in bringing advancements through modern weapons design and features into semi-automatic and automatic rifle systems. The Companys advanced weapons manufacturing facility is state of the art and have assembled a top-notch team of experienced designers and machinists to ensure we manufacture and provide the finest 100% American Made weapons and parts around. They take great pride in employing U.S. Veterans from all facets of the United States Military. With 100% product warranty we hope to have your business for life.
G&P Transformer Compact M4 Airsoft AEG with QD Front Assembly Cutter Brake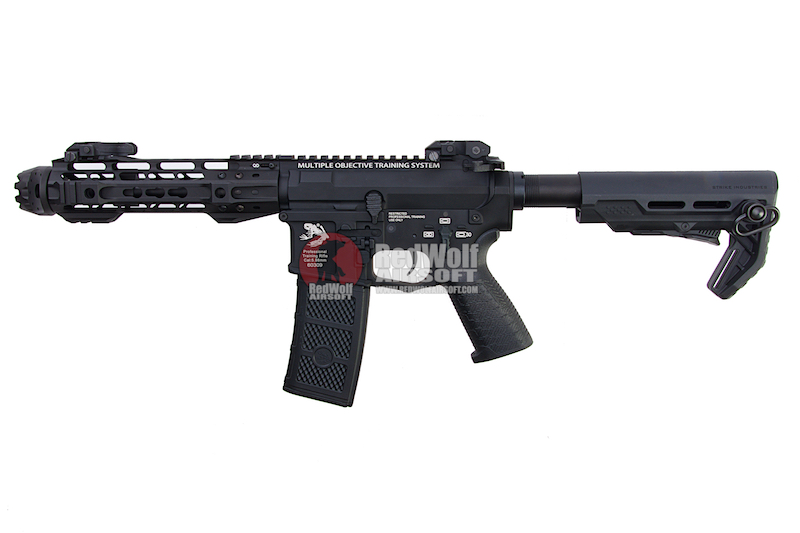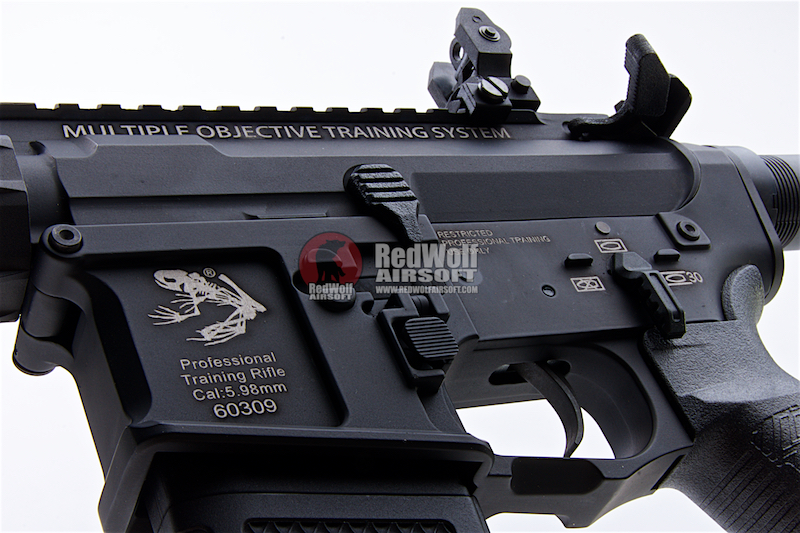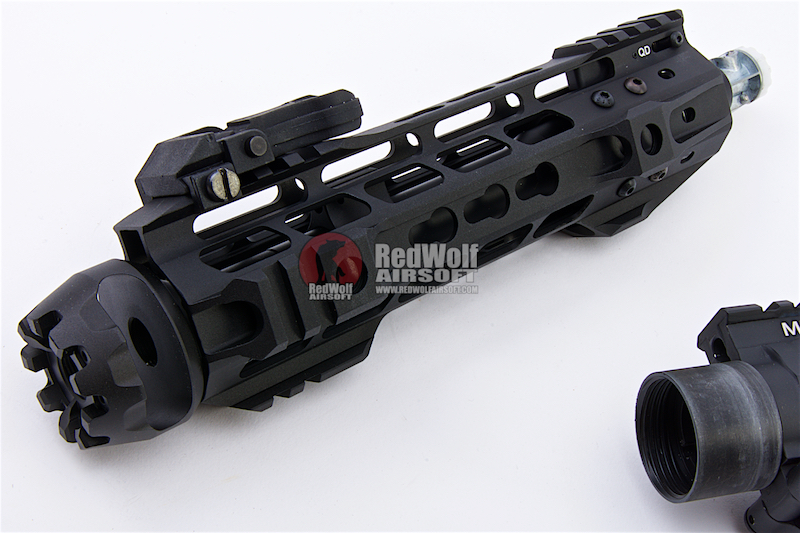 The G&P Transformer Compact M4 series the joins M4 family, a brand that has garnered a reputation of quality, performance and compatibility to the point of setting the standard for all metal AEGs. The QD front assembly is a new kind of AEG. This unique configuration will allow the user to remove the front end by pulling a switch back and screwing the entire section off. Due to this new function, this AEG uses and AUG style hop up unit. Do make sure the hop up chamber is aligned with the body before screwing it on.
With the exception of the textured Strike Industries pistol grip, telescopic adjustable crane stock and the Frog magazine, it is completely made out of metal with a few snazzy markings that really give it a coolness factor. G&P internals are a promise of benchmark standards; the degree of quality, reliability and performance that set the trend for AEGs to follow. Good clean, solid performance you can count on and if thats still not enough they are highly compatible so you can talk to our engineers about jazzing up those parts to greater heights of power and rate of fire. We do recommend using 9.6v Lipo batteries, anything lower and the AEG won't function. The AEG comes with a 130 round mid cap magazine with the skull frog imprinted on it. G&P have decided to go with a keymod quad rail system to accommodate the more lengthy style AEG. This makes it perfect for outdoor games as you can pick people off from a distance. The fire selector is bigger and ergonomic making it much easier to adjust though it does feel a little too easy to move. The magazine release is now ambidextrous making this AEG lefty friendly or if you want to switch it to your left side hoping to go round a right angled corner.
Includes:
x1 x1 G&P Transformer Compact M4 AEG w/ QD Front Assembly Cutter Brake.
x1 x1 130 Rnd Magazine.
x1 x1 Front & Rear Sight.
EMG CAM MK-II SAI Law Enforcement Airsoft Marker (SAI Licensed) (by APS)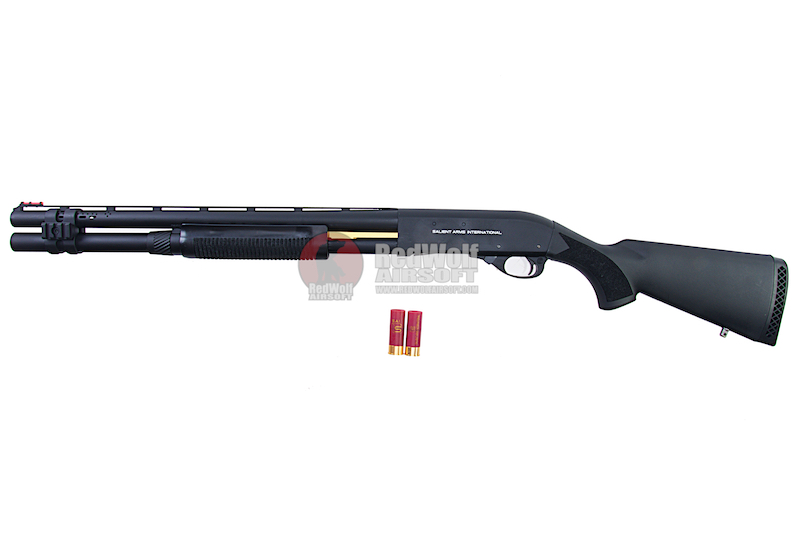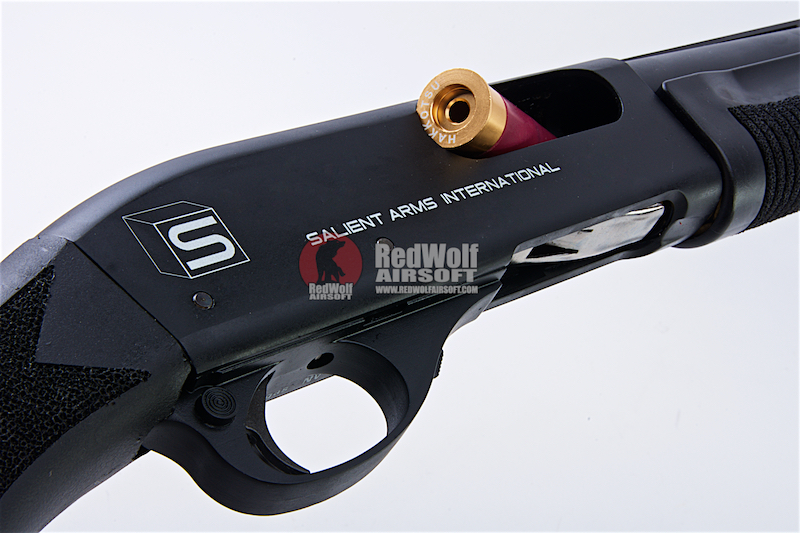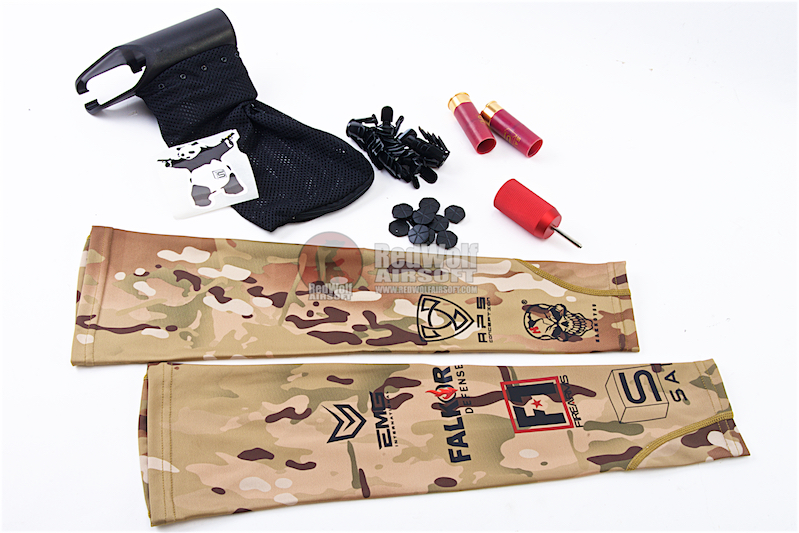 Features
Heavy duty aluminum receiver w/ weather resistant anodized finish & laser engraved Salient Arms International trademarks
Ultra-light weight design; vent-ribbed barrel w/ porting & high visibility fiber optic shotgun front sight
Aggressive stippling on forearm and stock for an absolute no-slip grip
Steel action bars for smoother cycling and improved durability; improved steel lift-gate; heavy duty steel extractor; reinforced aluminum trigger guard
Pre-installed +2 shot shell extension for 6+1 shell capacity
Custom CNC machined anodized aluminum bolt w/ laser engraved SAI trademarks
Easy fill gas-in-bolt design eliminates time consuming process of filling individual shells (7-8 shots per gas fill); a single 88g CO2 canister can refill shotgun up to 10 times
Capable of mixing and matching shell loads per-user preference. Can fire up to 12x 6mm BBs with one pull of the trigger w/ realistic shot patterning; resembles standard defensive loads; realistically ejects and loads shells like an actual pump-action shotgun
About the MKII System:The CA870 Shotgun by APS has proven itself to be one of the most favored Airsoft shotguns on the market; revered for its realistic operation and construction, the APS CAM870 quickly became the go-to Airsoft shotgun for players looking for immersion. After listening to the feedback of Airsofters and industry professionals, APS went back to the drawing board to make the CAM870 even better.
The result is the CAM870 MKII. Identical in exterior design and build quality, the CAM870 MKII retains all of the hallmarks of the original CAM870 such as the pump action and shell ejecting action. APS however, has entirely redesigned the CAM870 gas system for the MKII system. Instead of using a complicated charging rig and having to charge each individual shotgun shell, the MKII gas system holds the gas in the bolt, requiring the user to only have to charge the bolt, reducing time spent loading and cost of shells. This convenient new system allows players to quickly top off their shotgun with a gas charge on the field with portable CO2 canisters (approximately 7-8 shots per full fill; 50~ shots off a single 88g CO2 canister).
Salient Arms International (SAI), a cutting edge and innovative forerunner in the firearms industry based out of Las Vegas, Nevada, provides expert gun smith services for a wide range of firearms. Catering to the demanding requirements of Military, Law Enforcement, Civilian, and even Competition Shooters; Salient Arms Int. identifies a weapons weaknesses and shortcomings and provide problem solving solutions to push the envelope of performance out of each weapon system. Bringing out the full potential of each weapon system provides the user with a huge advantage as well as boosted confidence in situations where seconds can mean the difference between success and failure, winning or losing.
Evike Manufacturing Group (EMG) is the R&D division of Evike.com which specializes in high end training and custom weapons. EMG works directly with the real firearm manufacturers to make accurate, high quality training versions of their weapons. With professional Military & Law Enforcement training in mind, EMG strives to make sure each firearm is true-to-spec in form and function as possible. Individually hand assembled and Quality Control tested right here in the USA, great care is taken under the strict scrutiny of EMG technicians to ensure each gun will stand up to the rigors of real training.
A collaboration project between EMG and SAI, the Salient Arms M870 training shotgun feels and functions just like its real-life counterpart. Based on the APS shot shell system, each shot shell has its own self-contained propellant charge as well as the users choice of load. This unique system allows the training weapon to be loaded and cycled like an actual pump action shotgun; complete with tactical reloads, transitioning from one shell type to another, and shot patterning like that of defensive loads.
Materials: Steel, Aluminum, High Impact Polymer, Rubber
Length: ~980mm (38.5″)
Weight: 2600g
Muzzle Velocity: ~280 FPS Per BB (Measured w/ 0.20g BBs and CO2 gas)
Magazine: 6+1 shells
Gas Type: 88g Co2 Cartridge
Firing Modes: Safe / Fire
System: Gas, Pump Action
Hopup: No Hopup, No Inner Barrel
Package Includes: Shotgun, 2x shells, CO2 Shell Primer
Manufacturer: EMG / Salient Arms International
About EMG
The EMG vision is to manufacture products the world have never seen before, products we would put our names on it, and products that hits the spot! "EMG" (Evike Manufacturing Group) is spawned from the realization that if you want something done exactly the way you want it, you need to do it yourself and we did just that. It took them 16 years of knowledge as the market's lead retailer, network of 300+ superior manufactures, they work with top innovators in the firearm industry who inspires, combined with the vision to invest into the Airsoft industry they believe in, EMG was born.
About SAI – Salient Arms Intl
Salient Arms International (SAI) is dedicated to providing elite weaponry to customers who expect only the very best in both accuracy and performance. Whether they are military, law enforcement, civilian, or competition shooter, they will provide them with cutting edge products that they can rely on. SAI prides itself on applying an out-of-the-box approach to industry problem solving. Sai can identify and address a weapons shortcomings and then strive to create an improved and completely unique platform. Their approach to aesthetic design follows a very similar course. SAI places performance at the forefront of all its designs and that emphasis on performance creates a truly remarkable and striking firearm for the end user. SAI believe that a weapon designed around performance instills confidence in its user. That confidence can mean the difference between success or failure, winning or losing, and even life or death.