Here it is a new addition to the renoved King Arms line. And it is all shiny.
A bit of boring info and then a lot of awesome pictures.
1.Frame:
– CNC processed stainless steel slide with Kimber logo.
– Metal constructed lower frame provides rigid structure of the pistol.
2.Outer & Inner Barrel:
– Stainless Steel with 100% CNC processed in one piece outer barrel with .45ACP marking together with chrome hammer and trigger, makes it have a unique and luxury looking.
– Smooth and precise brass internal barrel in the length of 113.4mm and 6.05mm diameter. Makes the shooting trajectory constantly precise.
3.Safety:
– Double mechanisms give a superb safety of use.
– The ambidextrous slide-lock locks up the slide and the trigger when not ready to fire.
– The functional metal beavertail grip safety enhance the safety from misfiring. Shooter have to grip the pistol properly and tightly when triggering. Otherwise the trigger will be locked-down.
4.Sights:
– The metal fixed front sight and rear sight helps shooter acquire the target quickly. These sights are replaceable and allow users custom it from aftermarket sights.
5.Grip:
– Non-slip patterned grip cover are replaceable. There are ton of selections from the market for styling the pistol easily.
– Glossy black metal magwell become a standard parts in this series, it helps shooters grasp the pistol in correct position accurately and quickly. On the other hand, widened magazine inlet let the magazine changing fast and precise with confident.
6.Magazine:
– Metal casing double stack magazine can store up to 20 rounds 6mm bullets.
7.Parts:
– Good sealing inlet valve, outlet valve and air transfer channel avoid from gas leakage.  It offers more power and harder blowback recoil.
– Adjustable hop up let users fine tuning their precise shooting range. User can replace difference hop up rubber from aftermarket parts at their preference.
– Stainless steel spring guide and spring guide rod provides a corrosive resist, solid, and stable recoil system.
– Other parts such as barrel bushing, magazine catch and slide locking rod are all made by metal.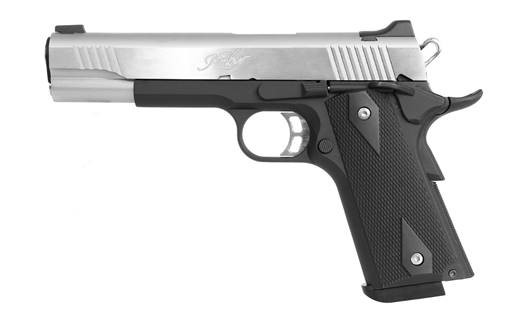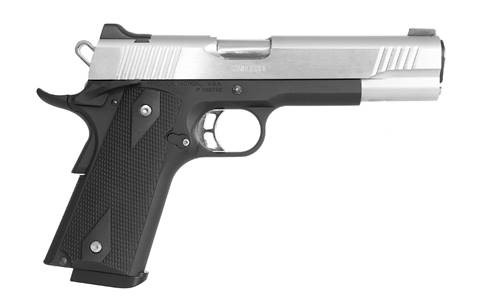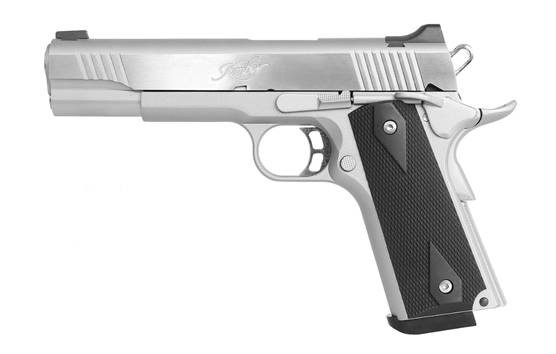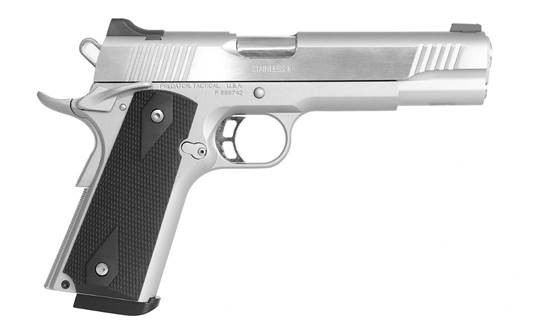 They look awesome don't they.
| | |
| --- | --- |
| Item Code | KA-PG-11-BK-KB / KA-PG-11-SV-KB |
| Name | SUS Custom 1911 Stainless Steel Version – Black / Silver |
| Suggested Energy Source | CO2 cartridge |
| Overall Length | 225mm |
| Inner Barrel Length | 113.4mm |
| Inner Barrel Diameter | 6.05mm |
| Overall Height | 148mm |
| Weight without Magazine | 896g |
| Main Material | SUS 303 Stainless Steel ; Aluminum Die-Casting Alloy |
| Major Color | Black & Silver |
| Capacity | 20 Rds |
| Caliber | 6mm |
| Marking | Kimber & Predator Tactical |
| Blowback Action | Yes |
| Accessories come with package | CO2 Pistol Magazine |
| Muzzle Velocity (Canada version) | Over 366 FPS |
| Muzzle Velocity (Italy / Japan version) | Lower than 0.98J |
| Muzzle Velocity (Standard version) | 290-320FPS |