As the world of airsoft is finally coming on the level of real steel discoveries that the M-Lok is the best system for attaching accessories. Better than the Key -Mod.
King Arms is following this development and they came out with awesome looking airsoft rifles.
Some product description form King Arms.
This TWS rifle series equipped with the metal M-LOK handguard, M-LOK is the most trendy rail system nowadays. KING ARMS got MAGPUL official approval to use their design. The M-LOK specification done according to MAGPUL provided document.
Our precise CNC machined M-LOK handguard provides a solid rail platform. M-LOK standard accessories can be bolt-on quickly and concretely.
Handguard length available in 12.5", 9.5" and 6" as your choices, corresponding to 14.5 / 10.5 and 7 inch one piece metal barrel.
Flip-up sight set with dual leaf aperture for long & short range and elevation adjustable front post. They helps the aiming more quickly and accuracy.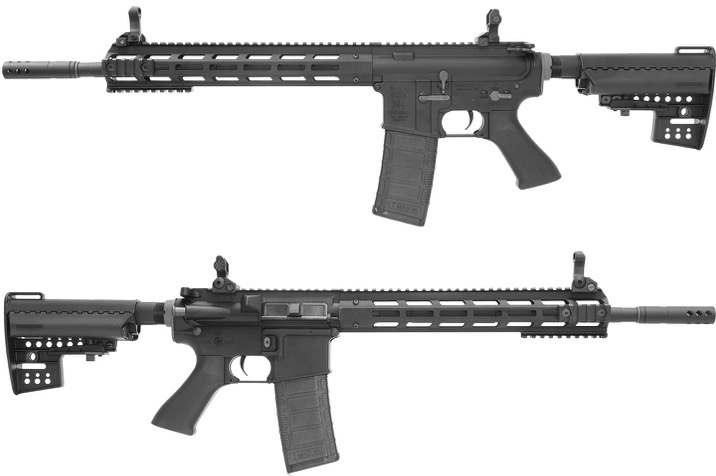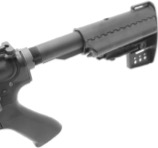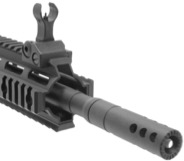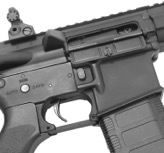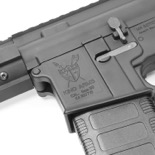 | | |
| --- | --- |
| Item Code | KA-AG-210-BK/DE |
| Name | King Arms M4 TWS Metal M-LOK Handguard Rifle Ultra Grade II |
| Suggested Energy Source | 9.6V / 11.1V Lithium battery, Buffer Tube Type |
| Maximum Battery Storage | 9.6V / 11.1V |
| Max. Overall Length | 900mm |
| Min. Overall Length | 820mm |
| Inner Barrel Length | 375mm |
| Weight without Magazine | 2410g |
| Main Material | Zinc Alloy; Nylon Fiber |
| Major Color | Black/ Dark Earth |
| Capacity | 140 Rds |
| Caliber | 6mm |
| Fire Mode | Safe / Single / Full-Auto |
| Marking | King Arms |
| Loading Mode | Automatic |
| Magazine Release Design | Single-Way |
| Hop-Up Bucking Design | Adjustable AEG Type |
| Gearbox Design | V2 7mm bearing Gearbox |
| Motor Design | Long-Axle Type |
| Accessories come with package | 140 Rds magazine(KA-MAG-77-BK) |
| Muzzle Velocity (Canada version) | Over 366 FPS |
| Muzzle Velocity (Italy / Japan version) | Lower than 0.98J |
| Muzzle Velocity (Standard version) | 340 – 370 FPS |

| | |
| --- | --- |
| Item Code | KA-AG-211-BK/DE |
| Name | King Arms M4 TWS Metal M-LOK Handguard Carbine Ultra Grade II |
| Suggested Energy Source | 9.6V / 11.1V Lithium battery, Buffer Tube Type |
| Maximum Battery Storage | 9.6V / 11.1V |
| Max. Overall Length | 880mm |
| Min. Overall Length | 800mm |
| Inner Barrel Length | 275mm |
| Weight without Magazine | 2210g |
| Main Material | Zinc Alloy; Nylon Fiber |
| Major Color | Black/ Dark Earth |
| Capacity | 140 Rds |
| Caliber | 6mm |
| Fire Mode | Safe / Single / Full-Auto |
| Marking | King Arms |
| Loading Mode | Automatic |
| Magazine Release Design | Single-Way |
| Hop-Up Bucking Design | Adjustable AEG Type |
| Gearbox Design | V2 7mm bearing Gearbox |
| Motor Design | Long-Axle Type |
| Accessories come with package | 140 Rds magazine (KA-MAG-77-BK) |
| Muzzle Velocity (Canada version) | Over 366 FPS |
| Muzzle Velocity (Italy / Japan version) | Lower than 0.98J |
| Muzzle Velocity (Standard version) | 340 – 370 FPS |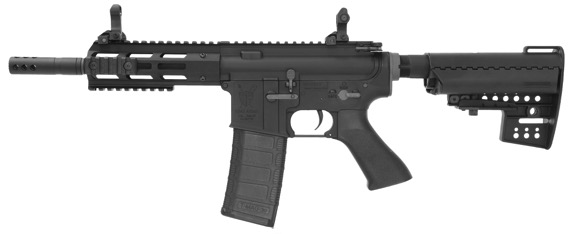 | | |
| --- | --- |
| Item Code | KA-AG-212-BK/DE |
| Name | King Arms M4 TWS Metal M-LOK Handguard CQB Ultra Grade II |
| Suggested Energy Source | 9.6V / 11.1V Lithium battery, Buffer Tube Type |
| Maximum Battery Storage | 9.6V / 11.1V |
| Max. Overall Length | 710mm |
| Min. Overall Length | 630mm |
| Inner Barrel Length | 195mm |
| Weight without Magazine | 2135g |
| Main Material | Zinc Alloy; Nylon Fiber |
| Major Color | Black/ Dark Earth |
| Capacity | 140 Rds |
| Caliber | 6mm |
| Fire Mode | Safe / Single / Full-Auto |
| Marking | King Arms |
| Loading Mode | Automatic |
| Magazine Release Design | Single-Way |
| Hop-Up Bucking Design | Adjustable AEG Type |
| Gearbox Design | V2 7mm bearing Gearbox |
| Motor Design | Long-Axle Type |
| Accessories come with package | 140 Rds magazine (KA-MAG-77-BK) |
| Muzzle Velocity (Canada version) | Over 366 FPS |
| Muzzle Velocity (Italy / Japan version) | Lower than 0.98J |
| Muzzle Velocity (Standard version) | 340 – 370 FPS |