Skirmshop, our beloved supplier of high end upgrades, announced the arrival of much awaited professional hopup chamber from MaxxModel.
And this beast is awesome. The hopup chamber was designed with thought and it implements many of designs that we airsofters missed in other chambers.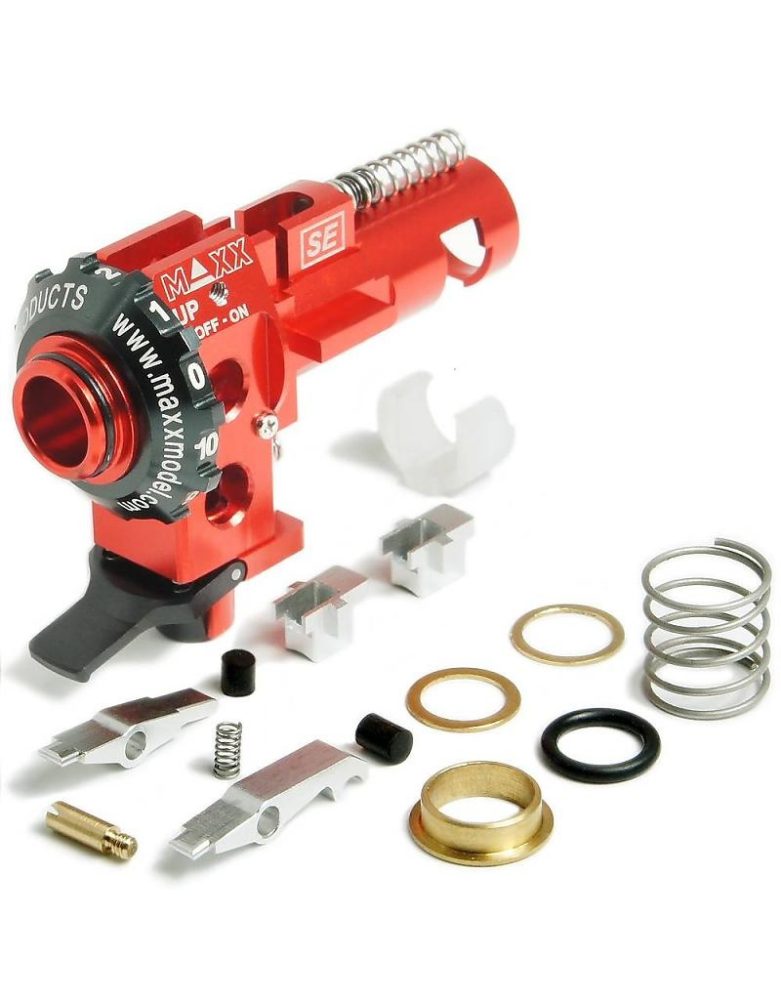 Machined from a solid aircraft aluminum 6061 block with tight tolerances to provide better accuracy, consistency, and durability.
Specially re-engineered the Hopup Arms to work with Maple Leaf, R-hop, Flat-Hop and Standard-Hop precisely and consistently.
Designed with BB Latching System for automatically locking BBs into the Hopup Chamber to prevent dropping BBs after removing the magazine.
Automatically opened Latch fully for fast shooting after the magazine re-inserted.
Manually opened Latch to release BBs from Hopup Chamber by hand.
Dial Knob built-in for precise adjustments.
Removable Brass Threaded Slot Pin for adjustment and maintenance.
Accepts wide range of Air Seal Nozzle's length from 21.00mm to 21.25mm.
Fully compatible with most aftermarket soft and hard rubber bucking without losing FPS or dropping BBs.
Equipped with 3 O-rings, 3 Compression Springs on top, at bottom and in center of housing to ensure the hopup unit is exactly centered, straight and air tight at all times.
Compatible to any V2 gear boxes with 11mm or 11.5mm bore.