Beside me being an enthusiastic airsoter I am also a proud owner of a mischievous Keeshond dog. As he is nearing its 1 year mark I am in a process of deciding in which direction I will be focusing his training. At the moment two options exist. One is a search and rescue dog and the other is mantrailing.
I know that search and rescue dogs get in to all kind of dangerous situations when searching for survivors. So when searching for protection gear I came upon this novel product.
The K9 HELMET
The products is still in its starting up stages but it shows a lot of promise for protection of working dogs all around the world.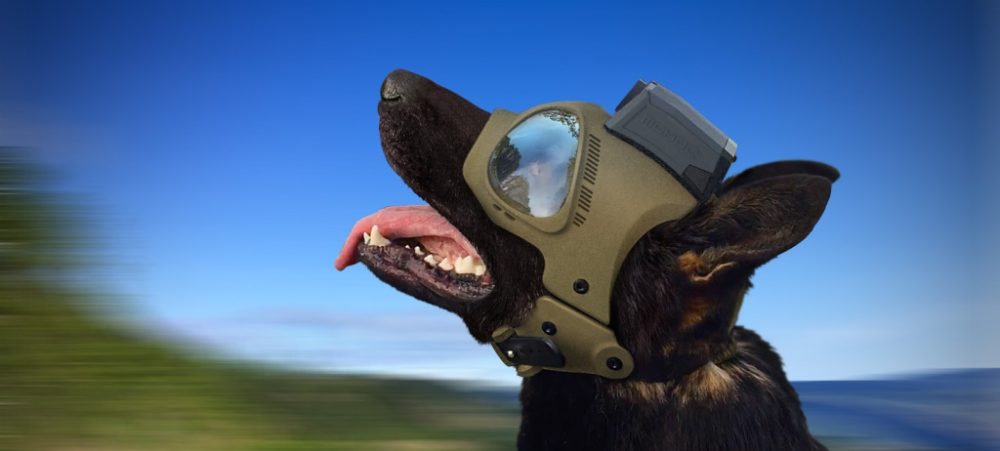 Inventors:
Behr and Beck LLC is located in Portland Oregon. The partnership was originally formed to offer product design, packaging, and marketing consultation services. The development of the dog helmet started in June of 2015 as a craft project to build head protection for our dog Charlie, who enjoys riding around town in a cargo bicycle. Conventional straps seemed ineffective, which led to the development of the side-plate retention system and a utility patent filed in December of 2015.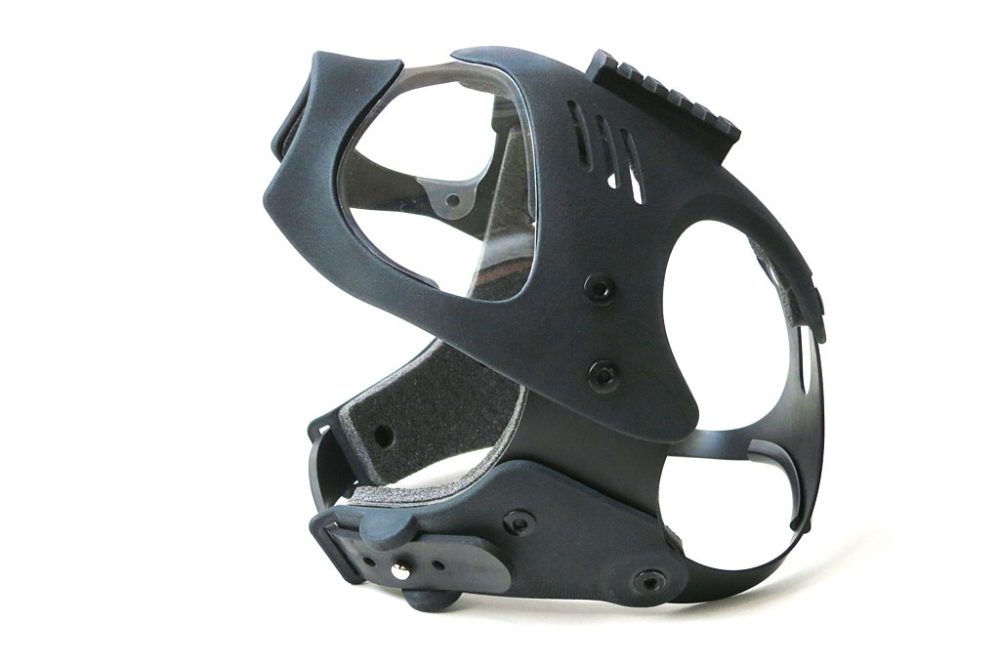 Purpose:
To provide protection to injury prone areas of the head without compromising the dog's ability to use its ears, mouth or nose, or to move quickly and with agility.
To provide a stable platform for various accessories such as detachable muzzles and ear protection, cameras, tactical lights including infrared illuminators, range finders and handler-to-dog communication devices such as mounts to securely position a wireless earbud near the aural canal without limiting ear movement.
Making off-leash work safer and more effective by combining the above utilities.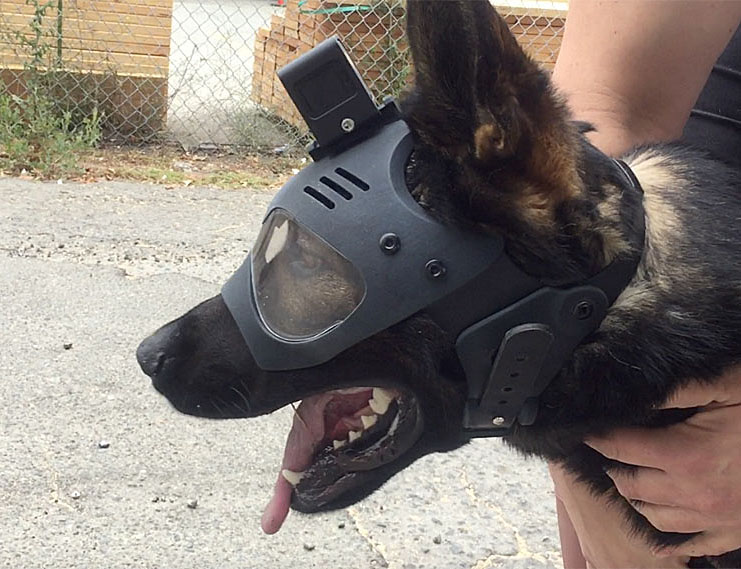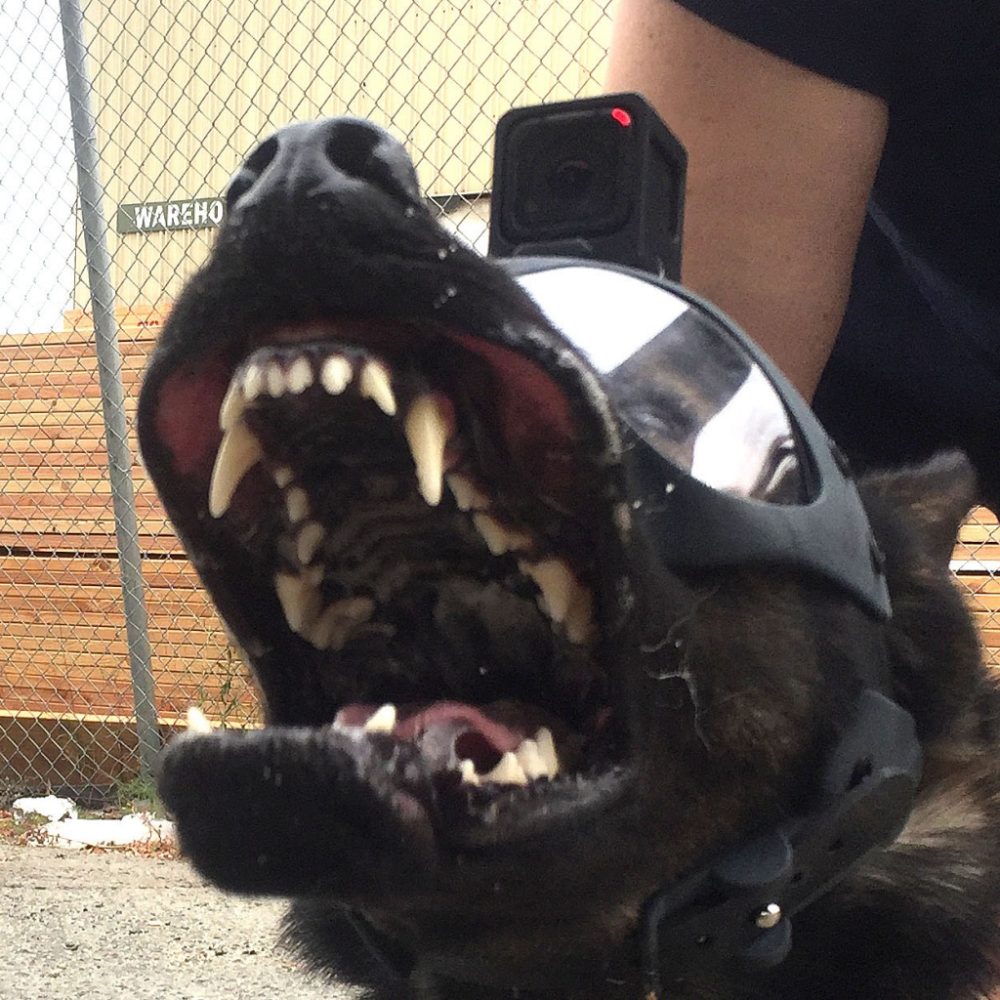 Safety ratings:
Currently there are no safety standards for dog helmets, but we intend to obtain EN-812 certification for the helmet shell — same rating as industrial "bump caps" — protection from bumps, cuts, and abrasions due to hitting one's own head on hard or sharp objects, particularly in tight or enclosed spaces. Eyewear rated ANSI Z87.1 minimum. Some helmet variants may be made to accommodate MIL-PRF-31013 rated ballistic lenses.
Construction:
3D printed versions made from Nylon 12 using HP Multi-jet Fusion. Larger production runs will most likely be made of glass filled nylon 66 (zytel). Foam lining is closed cell polypropylene. Straps are butyl rubber. Lenses are polycarbonate. Units will include a spare set of lenses and a removable picatinny rail and mounting hardware.
Examples of usage:
Search and Rescue operations where dangerous rubble and debris present high potential for bumps and abrasions, and where live video feed from dog to handler is desired.
Airport and public spaces where it's desirable to have off-leash K9 sniffing for explosives or other substances, where injury hazards may not be present but where the helmet provides a comfortable platform for a live video feed and handler-to-dog communication electronics.
Fugitive tracking — helmet equipped with a tactical light can illuminate an area so the team can locate the subject quicker, or with the light on strobe, a combative suspect hiding in a dark basement or attic can be disoriented by the light, allowing the dog to get a better bite.
When doing bite training, decoys apply gentle pressure to the dog by patting or pushing on the animal's head or face. With the helmet, harder slaps and fight play can be performed without the risk of giving the dog a bad experience. Building confidence in this manner may help get the dogs up to speed in their bite training quicker.
Firing range training where ear and eye protection are required.
Helicopter insertions and extractions where eye and ear protection are required and where greater head protection and possibly a muzzle may be desired.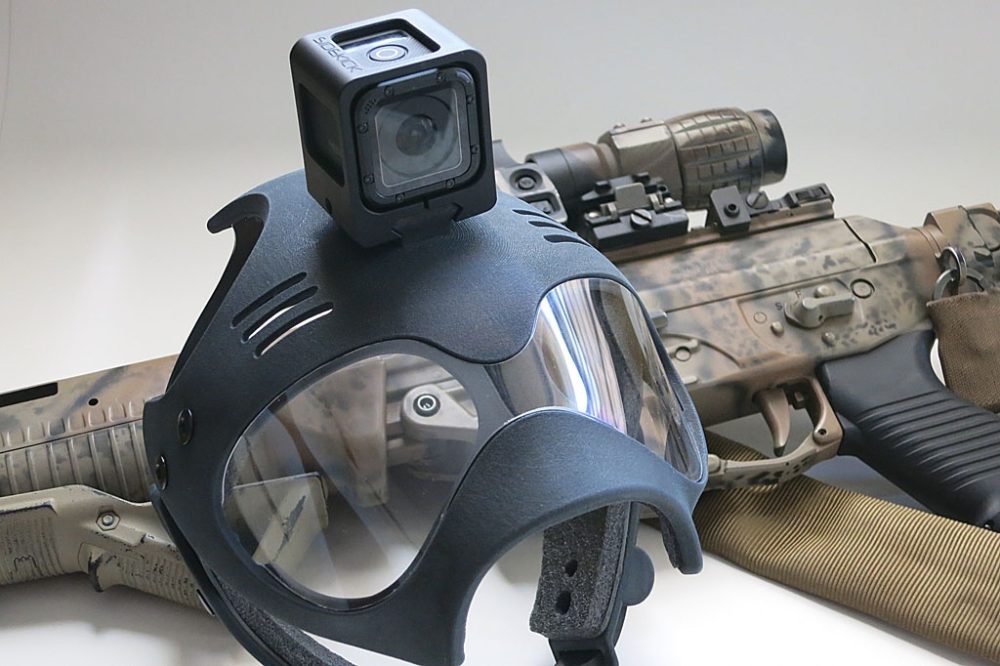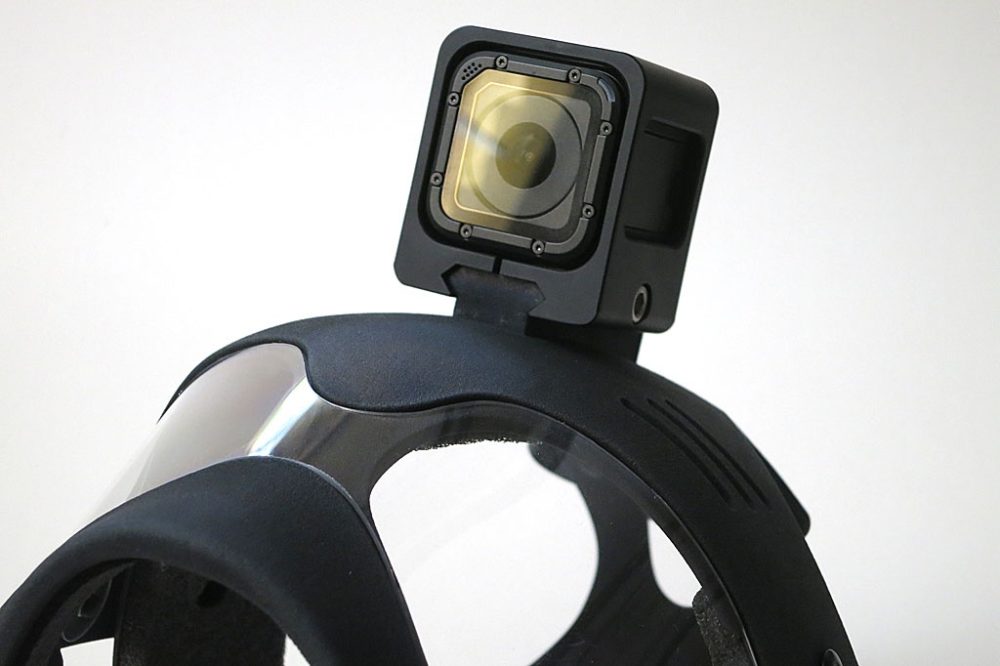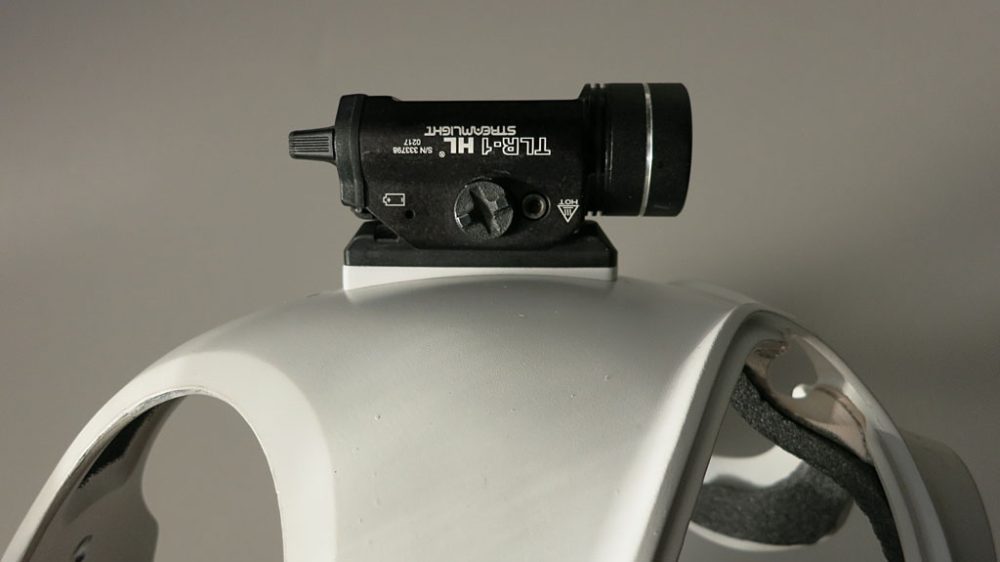 Observations:
Crate-trained dogs seem to accept the helmet readily. One trainer consultant explained that dogs most likely perceive they're inside something when wearing a helmet, inducing feelings of comfort, calm and safety.
Our primary police K9 handler related instances where the mere presence of the dog was so intimidating, the suspects immediately gave up. The helmet clad dog with its dark lenses is perhaps even more intimidating, and the realization that the painful and humiliating bite will be recorded on camera, close up!
We've also been pleased to note that high-drive dogs seem to prefer lots of strap tension for a very snug fit. This makes sense because a loose piece of gear can slow one down, chafe, and otherwise be a distraction.
Pricing and availability:
Pricing is yet to be determined. We don't yet know if sales projections will be high enough to justify the expense of tooling for injection molding, or if we should focus on 3D printed parts. Also undetermined is the best manufacturing technique for the foam padding, which is critical for sizing and fit. We are negotiating with a large US retailer of K9 products who is interested in having exclusive rights to sell the product. If this happens, the product will be able to ship to most countries. This is not a police/military only product, though such customers may outfit the helmet with proprietary of classified accessories. The helmet itself is simply a piece of safety gear that anyone with a compatible breed of dog may purchase.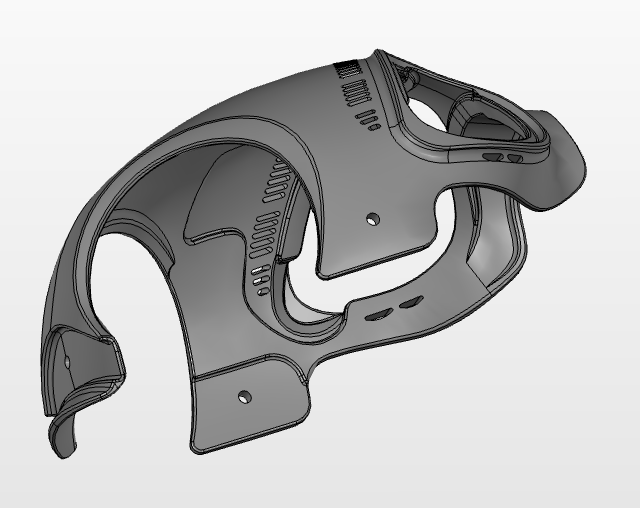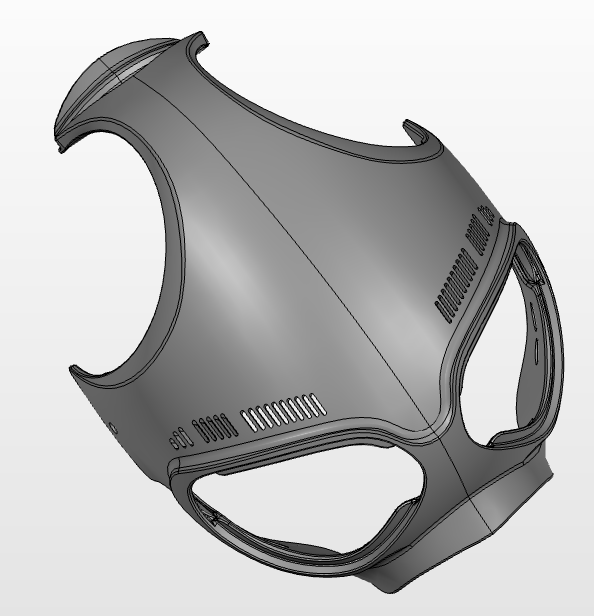 How well the dog handles the helmet can be seen in this video below.