RedWolf as always leads the way in new items you really need. I am in love with Cyberguns SIG MCX hope to get one to test.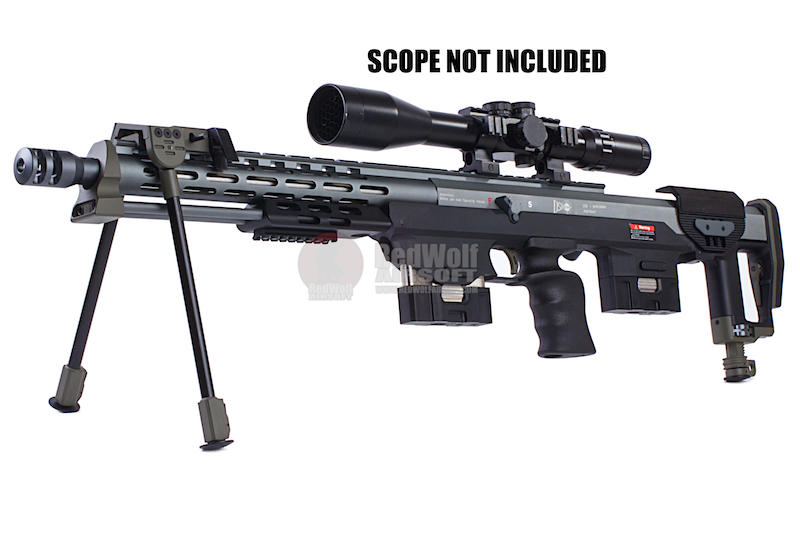 The ARES DSR-1 Gas Sniper Rifle is probably one of the heaviest bullpup airsoft replicas to date, weighing in a whopping 7 kilograms at just under a meter long. This is due to its CNC 6063 aluminum chassis as with many adjustable parts such as the stock, cheek pad, lower handguard & bipod. Knowing this, you can expect it to be fully adjusted to the user. As a gas sniper rifle, the bolt action is incredibly smooth and once you pull the trigger, you'll get a rather consistent 420 fps with plenty of gas left in the magazine's canister. The great thing about this is that it also comes with one extra magazine with a slot for it in front of the handguard.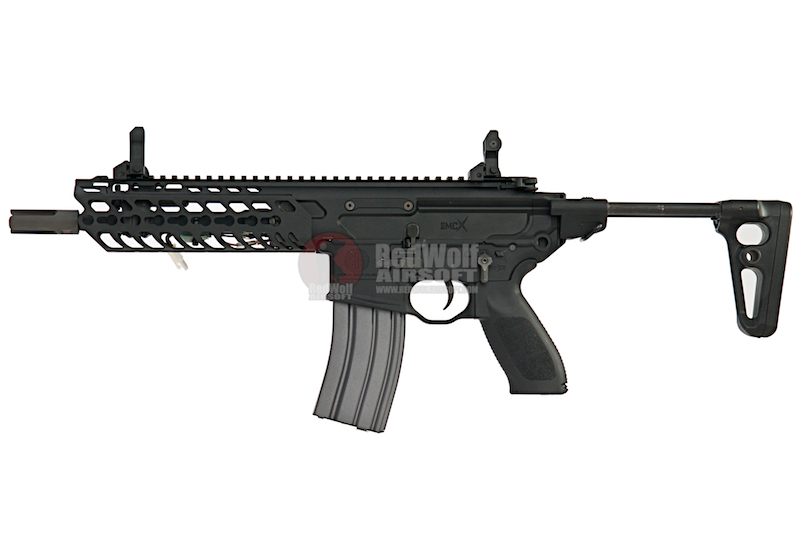 Cybergun's new fully licensed MCX AEG is not something to take lightly. Cybergun have upped their game as handling this for the first time will make you feel like you have a sturdy airsoft gun in your hands. The extendable stock and flip up front and rear sights are extremities you won't have to worry about due to the sheer sturdiness of the gun. The keymod rail system has ample room for plenty of extra accessories if you decide to add them. It is currently front wired with the plug sticking out of the right side of the rail system so you will have to find an external PEQ box for a battery with tamiya connectors. Firing at a stable 360, the MCX won't let you down in CQB and will hold its own in outdoor games.
Airsoft Surgeon Micro Comp V3 for G Series (14mm CCW)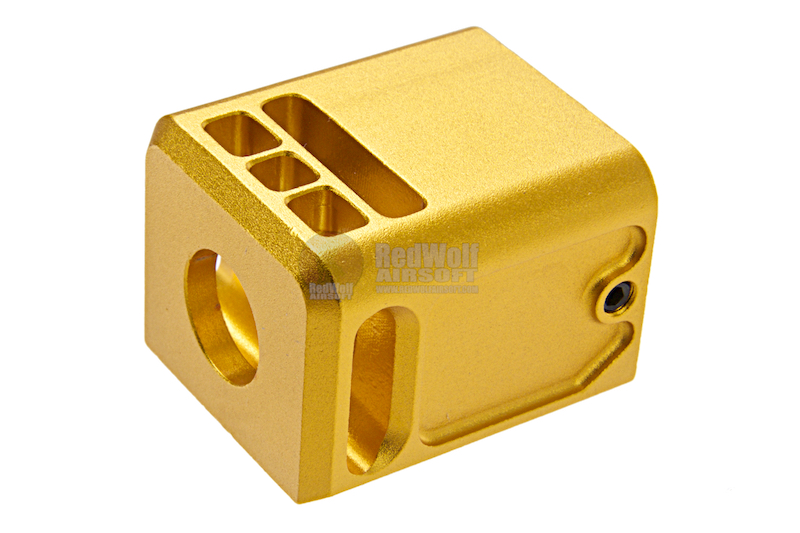 Developed by Airsoft IPSC grand master Airsoft Surgeon, the Airsoft Surgeon Micro Compensator For G series are a drop in accessory for the any brand G series so long as the outer barrel has a 14mm CCW thread. It adds a little weight in the front to counter balance the recoil from each shot, making followup shots much easier.
Airsoft Surgeon Stubby Comp for G Series (14mm CCW)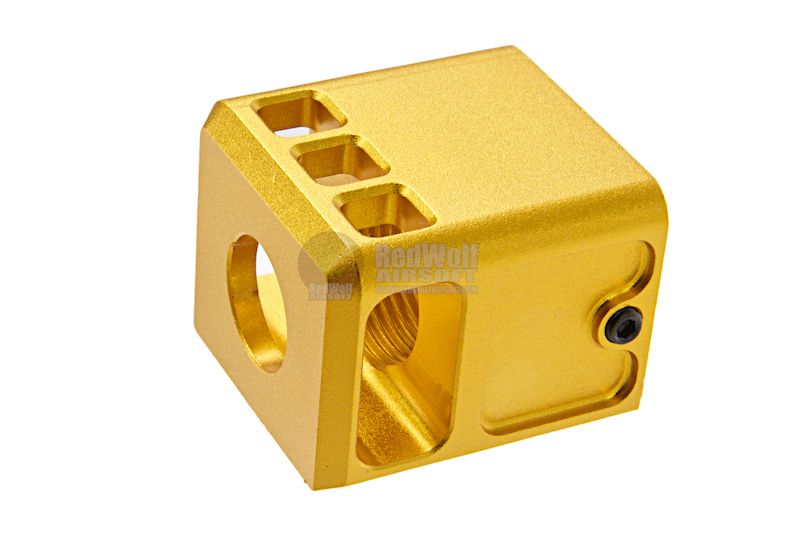 Developed by Airsoft IPSC grand master Airsoft Surgeon, the Airsoft Surgeon Stubby Compensator For G series are a drop in accessory for the any brand G series so long as the outer barrel has a 14mm CCW thread. It adds a little weight in the front to counter balance the recoil from each shot, making followup shots much easier.
Sightmark Ultra Dual Shot Pro Spec NV Sight QD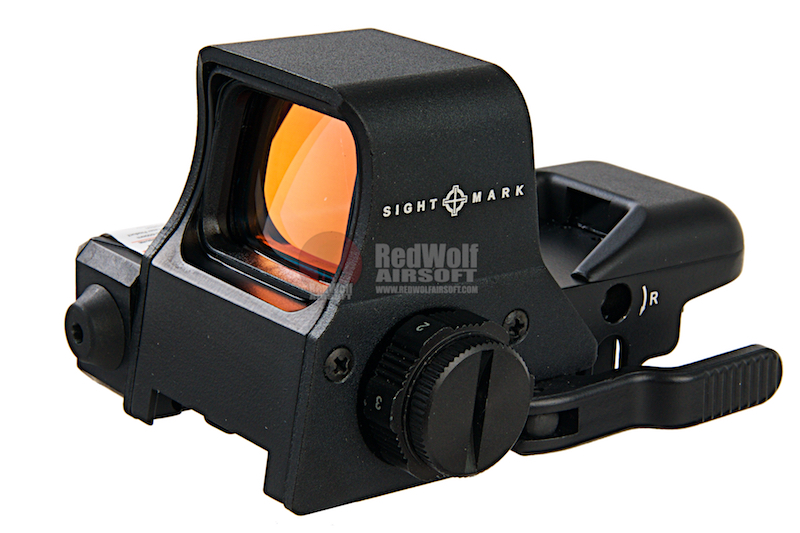 The Ultra Dual Shot Pro Spec Night Vision QD Reflex Sight from Sightmark delivers not one, but two ways to dial in with pinpoint accuracy. Featuring a side-mounted red laser for quick target acquisition, the shooter can fire quickly in close-quarter situations such as tactical training situations and three-gun matches. When sighting through the dual-pane glass, users can customize their view with one of the four illuminated reticle patterns. The Ultra Dual Shot is equipped with a night vision mode, allowing shooters to mount the device in front of a night vision monocular and create a co-witnessed riflescope set up. Its featured double-pane glass lens system eliminates parallax and retains accuracy when Fired from the periphery of the lens. Users can quickly and effectively adapt their firearm to the situation at hand with the included quick-detach mount. Its Interlok internal locking system of the Ultra Dual Shot holds zero extremely well, so the shooter does not have to continually re-adjust the sight in the field. The all-aluminum construction enhances durability, making it operable in various environments and situations.
Cybergun WE Desert Eagle .50AE GBB Pistol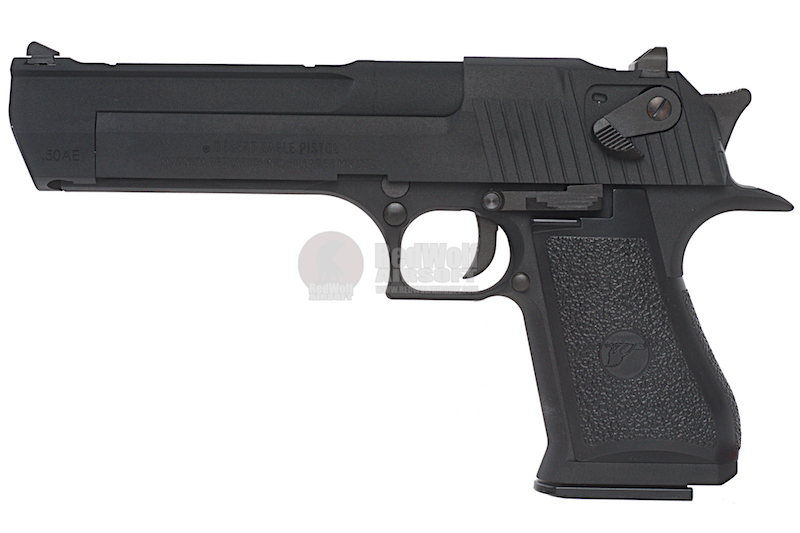 Biggest and one of the hardest kicking handguns .
Fully licensed by Cybergun, you can expect it to have all the correct markings.
Strong recoil spring.
Good for 380fps when using Green Gas.
Comes with a 21 round green gas magazine.
As seen used by Agent Smith in the movie The Matrix.
KSC M93R Auto 9C GBB Pistol (Japan Version)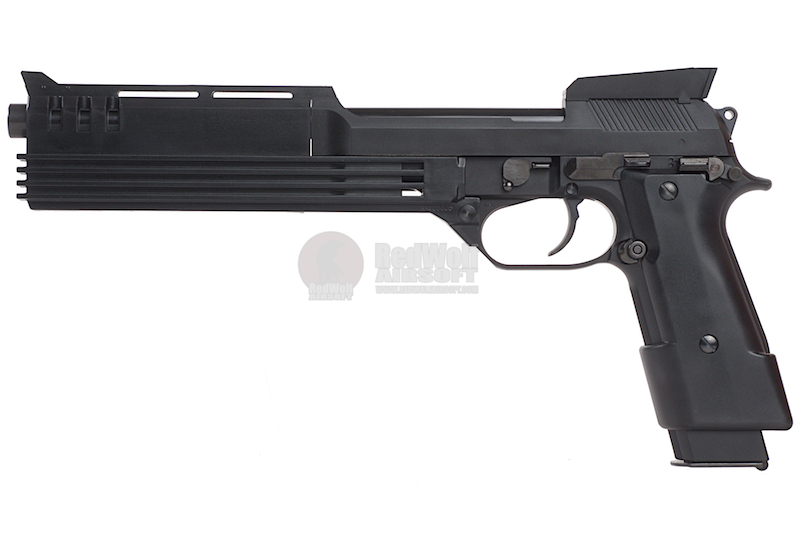 KSC releases the M93R Auto blowback pistol which is based from the famous gun used by the hero in Robo Cop. Please note that this does not take standard KSC M93R mags, so be sure to pick up the M93R Auto 9C mags instead. It comes with all the OCP markings as you would see from the movie and features a semi / full auto firing mode which kicks like a beast!
Firing at a consist 370fps on Green Gas, it kicks rather hard especially for something with a polymer slide. To adjust the hop up, you will need to remove the slide and there is a hex key screw found on the top of the outer barrel.
Lets not forget its extremely high rate of fire which will leave your opposition fleeing in fear when they see it! Though not everyone may like the pistol grip its still a decent GBB pistol to have in your arsenal or for those who enjoy collecting guns to showcase.
Umarex HK USP Cal.6mm BB CO2 GBB Version – Air BB Toy Model Only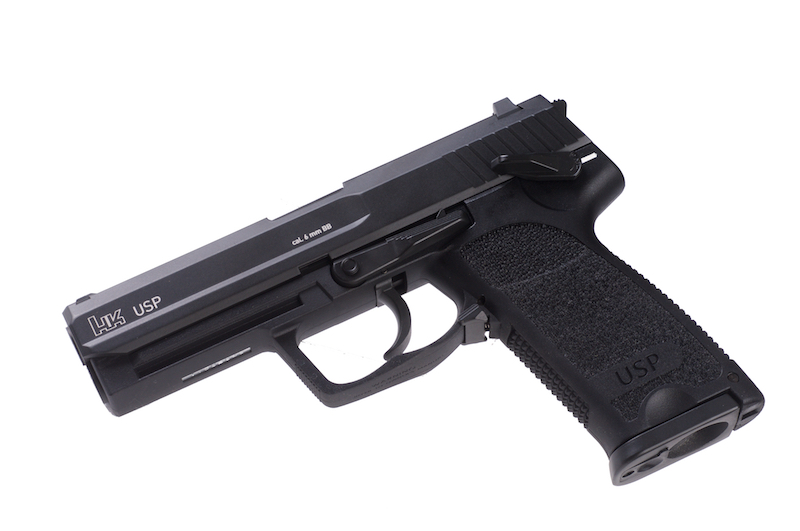 The USP (Universelle Selbstladepistole or "universal self-loading pistol") is a semi-automatic pistol developed in Germany by Heckler & Koch GmbH (H&K) of Oberndorf am Neckar as a replacement for the P7 series of handguns. The USP is also a cultural icon having been featured in movies and TV shows such as HEAT and 24. This Co2 GBBR version of the gun is a reproduction of said pistol.
Marushin Mateba Revolver X-Cartridge Series (6mm Silver)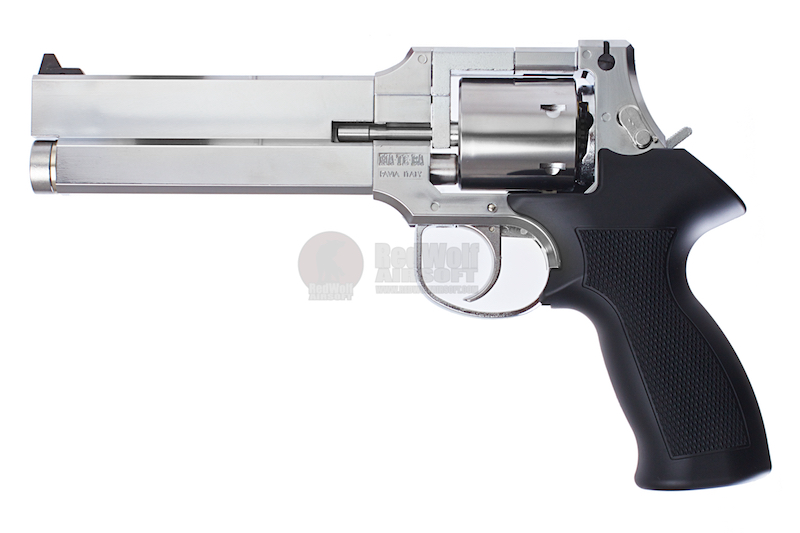 The Marushin Mateba is exactly like the real steel version when it comes to the way it functions. As peculiar as it is, it proves very useful. One thing you'll have to get used to is the sight alignment as the bore is along the lower frame. Unlike most Marushin revolvers, this one has a hop up adjustment point which is easy accessible. You'll find it on the upper part of the frame, half way down the gun. All you need to do is a use a hex key to adjust it. The strange looking Mateba can be found in a anime series called Ghost In Shell. It's one of those pistols that looks unique and different from the others which is why it is so well known, making it a perfect anime prop gun! To all the cosplayers that love the Ghost In Shell series, you will absolutely LOVE the Marushin Mateba revolver. The Mateba is a very solid revolver made of a heavyweight plastic giving it a bit of heft.
EMG Sharps Bros 'Jack' Licensed Full Metal M4 AEG 15 inch Carbine – DE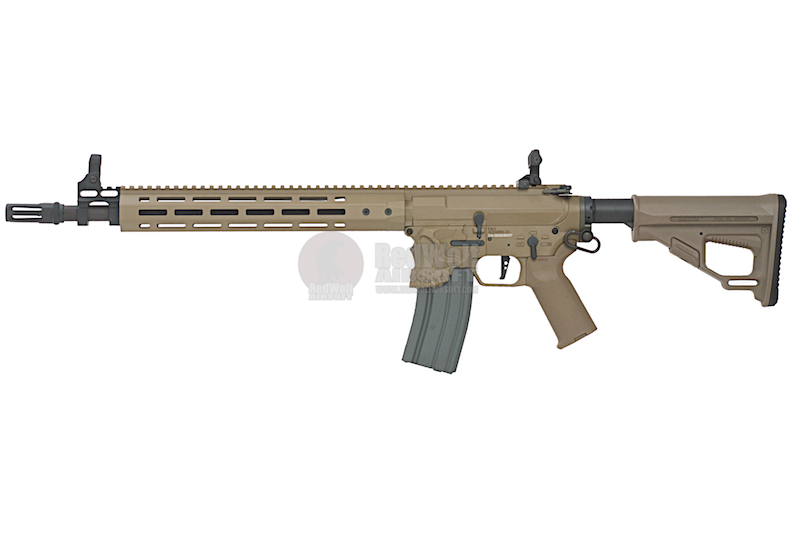 Internally, the Jack is the most advanced Airsoft rifle on the market today featuring the award winning QD programmable gearbox as seen on the popular Amoeba series AEG by ARES, high performance motor, adjustable hopup and superb accuracy. Externally, the Jack features a full metal Sharps Bros licensed metal receiver with enlarged magazine well for high speed operations, M-LOK advanced handguard, optic ready upper receiver, flip-up front and rear sight, ergonomic retractable stock and ergonomic motor grip.
ASG CZ Scorpion EVO3A1 Carbine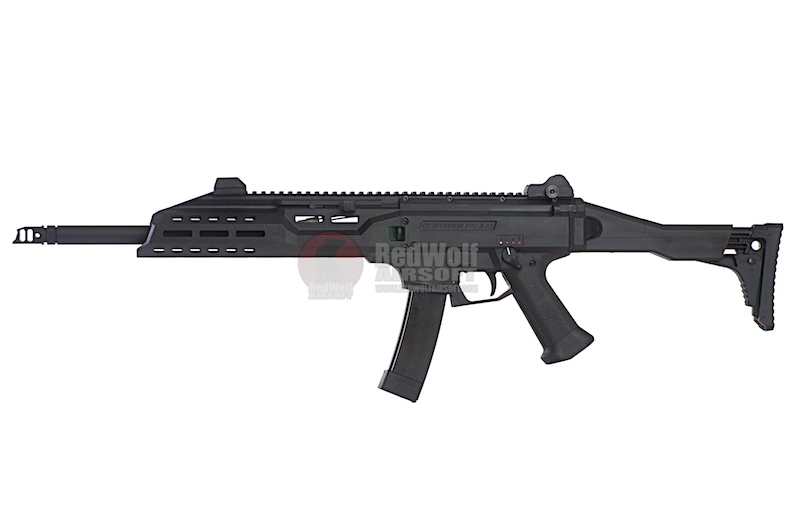 The CZ Scorpion EVO 3 A1 has been envisioned, developed and built by ASG, to bring the Airsoft player as close to the experience of handling the real EVO 3 as possible. Like a real gun, the EVO 3 will stop firing when its magazine runs empty, and require activation of the bolt catch after a reloaded magazine has been inserted. Where the standard in Airsoft is to replicate the exterior in appearance only, the EVO 3 is built to be as tough as the real thing. The internals have been purpose built to deliver advanced functions by using custom electronics, while having the strength necessary to handle both powerful springs and high-speed solutions.
Umarex / VFC HK416 GBB (Asia Edition) – New Version (For Retail in Asia Region Only)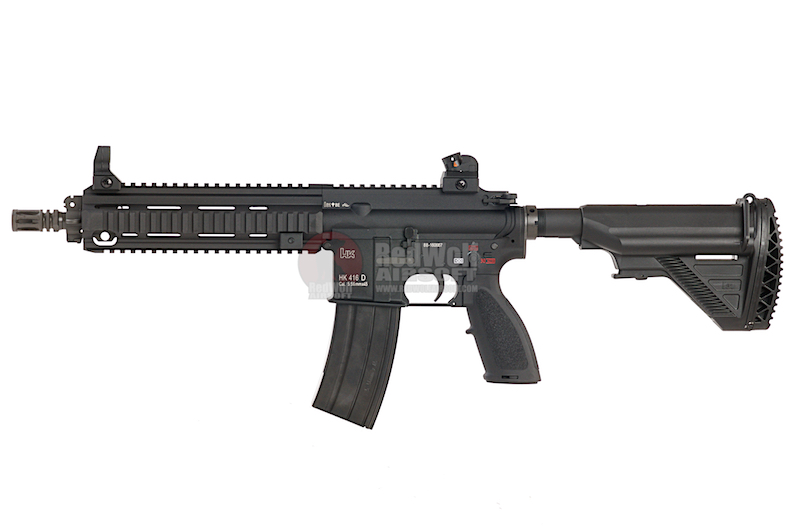 Umarex / VFC HK416 GBB (Asia Edition) a close relative of the HK416, is licensed by the German arms maker, Heckler and Koch, real steel markings. It is a modified version of the American M4 carbine with many changes.
On the real steel, most notably a new gas operating system from the Heckler & Koch G36. Customers have the option of purchasing a new upper receiver, buffer and drive spring to refurbish M4s or buying a completely new and complete HK416.
The 416 includes international symbols for Safe, Semi-Automatic, and Fully automatic, a redesigned retractable stock which allows the user to rotate the butt plate, a new pistol grip designed by H&K, made to more ergonomically fit the hand and, attached to the rifle is a new single-piece hand guard with a free floating RIS system, used for mounting accessories. This version will allow you to quickly remove the flash hider at the tip of the outer barrel allowing the user to switch it out with a 14.5′ extended outer barrel instead.
This is one of the most hardest kicking gas blowback rifles in Airsoft with an amazing recoil and sound that is music to any shooter's ear. Huge magazine means there is enough gas to propel the bolt strongly backward on each shot.
TMC MANDIBLE For OC Highcut Helmet – ATACS Ix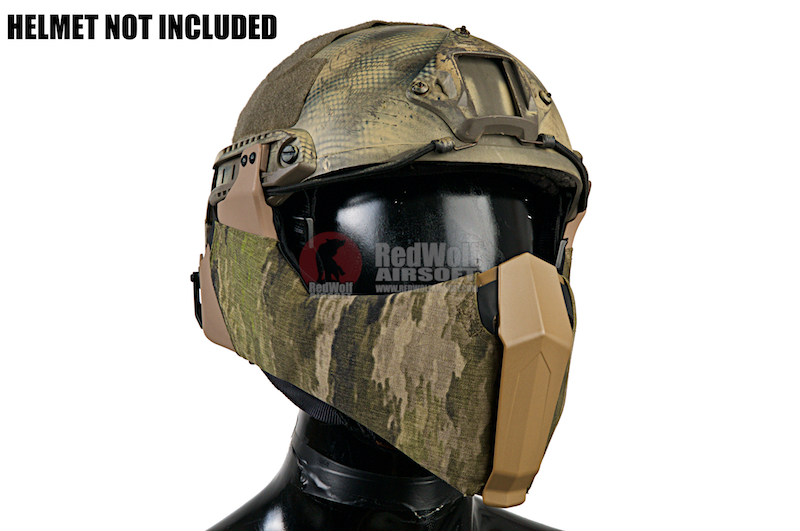 TMC have gone for the tactical dirt look with their latest MANDIBLE mask which was made to fit the Highcut Helmet. The new mask is a hybrid between traditional full mesh masks and soft shell mask. It features a new mounting system which can fit on the railed system of the FAST or Arc helmets. Let's not forget about the padding on the inside of the mask which gives it that extra comfort for wearing it long periods of time.