Firesupport UK ICS distributor now has the complete range of ICS HOG series in stock. So if you wish to have a quality rifle and also good looking piece of equipment. Here are the news for you.
HIGH-OCCUPANCY HANDGUARD=HOG
ICS HOG – UK Spec approx fps 310 to 330 ideal for shooting in the UK and Ireland
CXP-HOG, the newly short barrel designed look with modern style. "Hog" is a symbol of strong explosion.
Aggressive geometric surfaces enhance the unique new style. Strong and powerful lines demonstrate this dynamic personality. The CNC machined one piece upper receiver empowers the fighting spirit.
To be the comprehensive tactical player, CXP-HOG uses the latest keymod handguard to be the high occupancy system for players installing multiplicity tactical accessories.
CXP-HOG utilizes an all new rear wired gearbox. This incorporates a brand new hidden wire design within the stock tube. It is easy to replace batteries by removing the rear stock. The new hidden wire system keeps the wires protected from damage and allows the gun to look more realistic.
Additional Information
Gun Length 720/800mm
Barrel Length 303mm
Weight 2690g
Muzzle Velocity 116-136 m/s (381-446 FPS)  ※
Battery Type 8.4V Ni-Mh or 7.4 Li-Po
Connector size Small connector
Mag. Capacity 300 rounds
Spring M100
Motor Long
Material Full Metal
※NOTE:
The product specification is for reference only and may be subject to change.
Battery type is recommended, not included.
For AEG with M100 spring, it is recommended to use voltage 7.4V Li-Po or 9.6V Ni-Mh batteries.
Muzzle velocity is measured with 0.20g BB's, and is adjusted to comply with market regulation/requirements for specific countries as shown below:
Below 106 m/s (350 FPS): Belgium, France, Netherlands, Portugal, Spain, UK
Below 100 m/s (328 FPS): Italy
Below 95 m/s (312 FPS): Japan
Below 45 m/s (148 FPS): Korea
https://www.youtube.com/watch?v=hIti1Y4MeHA&feature=youtu.be
The best looking rifles are 😀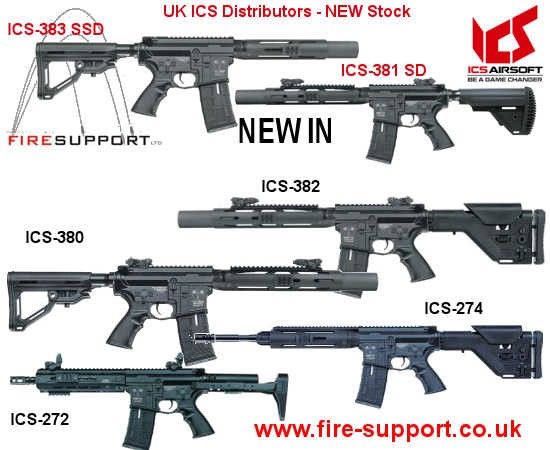 ICS-272

ICS-274

ICS-380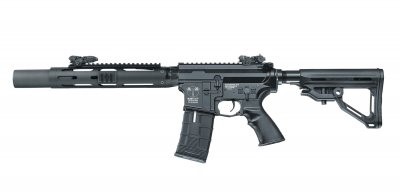 ICS-381
ICS-382
ICS-383