When I saw the CZ 805 Bren last year in a showroom it was a love at first sight. ASG found out about this infatuation of mine and send one for me to test 6 months ago. And why the hell I am writing this review so late you ask. Because I had to take this gun on the field as soon as I got it.
And damn, I enjoyed every second of it. So the review was put on hold as I was having too much fun. For that, I apologise, to the good people at ASG.
First lets start with a bit of history.
The CZ 805 Bren was designed to replace the Sa vz. 858 which was developed in the 1950s as an alternative to the AKM. Being the only Warsaw Pact member to not use a variation of the Kalashnikov, Czechoslovakia adopted the vz. 858 in the same calibre but ended up changing it to a 5.45 round to accommodate different roles.
I am a proud owner of VZ. 858 in the lovely 7.62 x 39mm ammo variant. And I must say the shooting with it is awesome fun but having a sturdy eye protection is a must as a lot of gases gets blown around your face.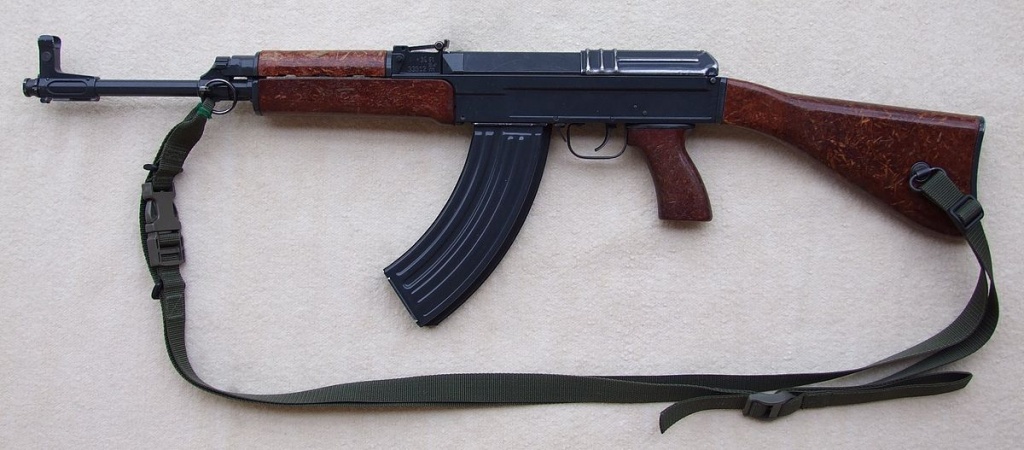 Picture courtesy of Wikipedia.
But as the army modernized so came the desire to have something more up to date.
So after a lot of starts and in the end even the splitting of two countries the phoenix rises from the ashes in the form of CZ Bren 805.
Designed by Česk zbrojovka Uhersk Brod (CZ,–who else?) in 2009 and adopted by the Czech military in 2011, the new BREN is already seeing use in combat, being shipped to Czech commandos on NATO assignment in Afghanistan in 2012.
Based on the proven Vz.56 design, the gas-operated rifle uses a rotating bolt in its action. Select-fire, the gun is capable of ripping out 700-800 rounds per minute for as long as its 20, 30 or 100-round detachable mags hold out. The gun comes in two standard lengths, an A1 rifle with a 14.25-inch barrel and the A2 carbine with a super short 10.94-inch barrel. The gun can accept a 40mm NATO grenade launcher tube under its barrel, also made by CZ as the CZ805G1. Overall length of the A1 rifle is just 36-inches, about as long as a Ruger Mini-14, but even this can be shortened to just 26-inches with a folding stock. Weight unloaded is around 7.2-pounds.
Chambered in 5.56mm, it can be swapped out with a different magwell (like on the new SIG 556xi but slightly different) to accommodate either 7.62x39mm or 6.8mm Remington SPC rounds.
In the end this modern looking gun made a lot of waves in the airsoft community and Action Sport Games decided to produce it for us loyal airsofters.
This rifle looks absolutely stunning. As you can see in this pictures, I succeeded to take when not playing with it.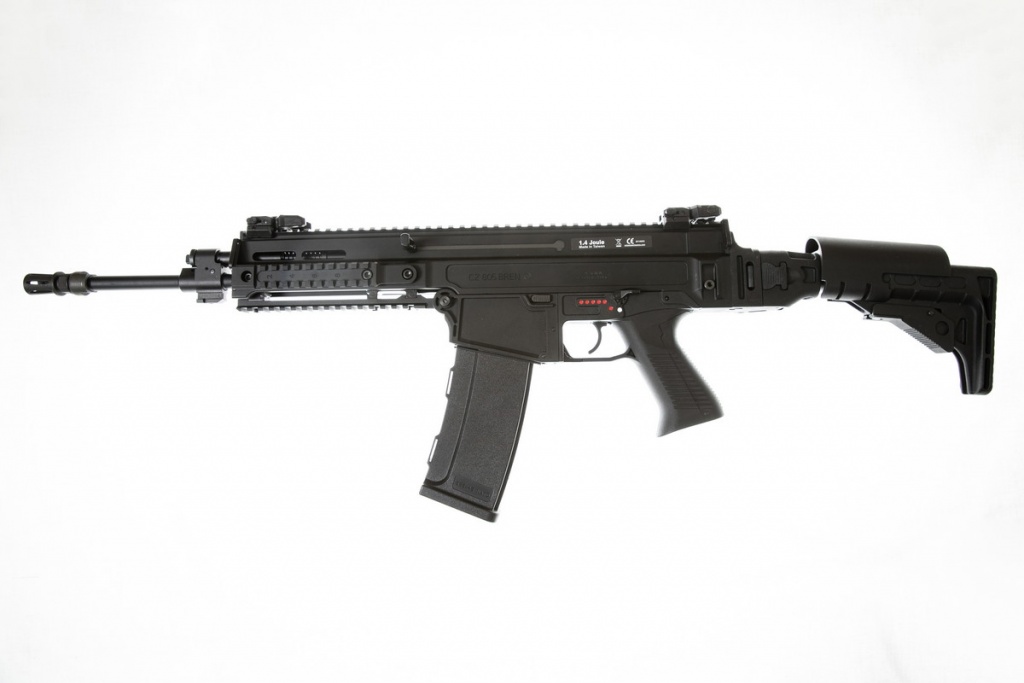 The foldable stock is really useful when your transport bag is a bit short. Also when you remove the stock you will find the battery compartment that runs on top of the gun. ASG provided me with a dedicated 900mAh 11,1V battery that makes this gun purrrrr.
The ambidextrous selector is crisp and with its 45 degrees SEMI and 90 degrees AUTO position makes transition from safe to SHIT HIT THE FAN really pleasurable.
The pistol grip is ergonomic and that saves it from annoyance as it cant be replaced with other kinds on the market.
The hop up unit is located under the dust cover and it can be accessed with pulling back the charging handle.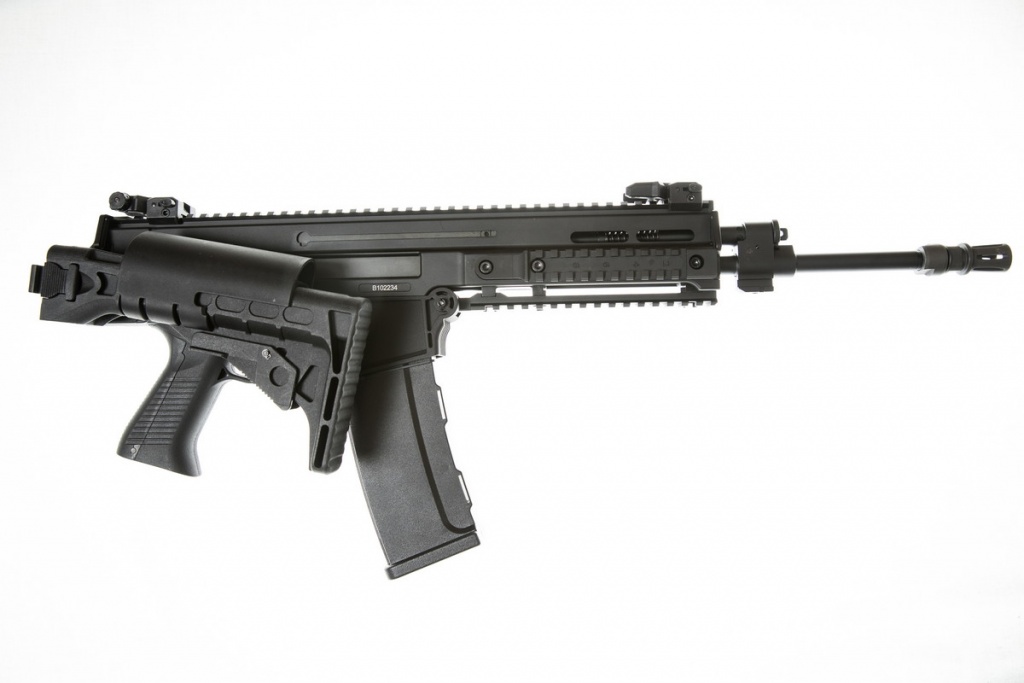 Collapsible front and rear sights are low profile and so their removal won't be necessary when attaching optics.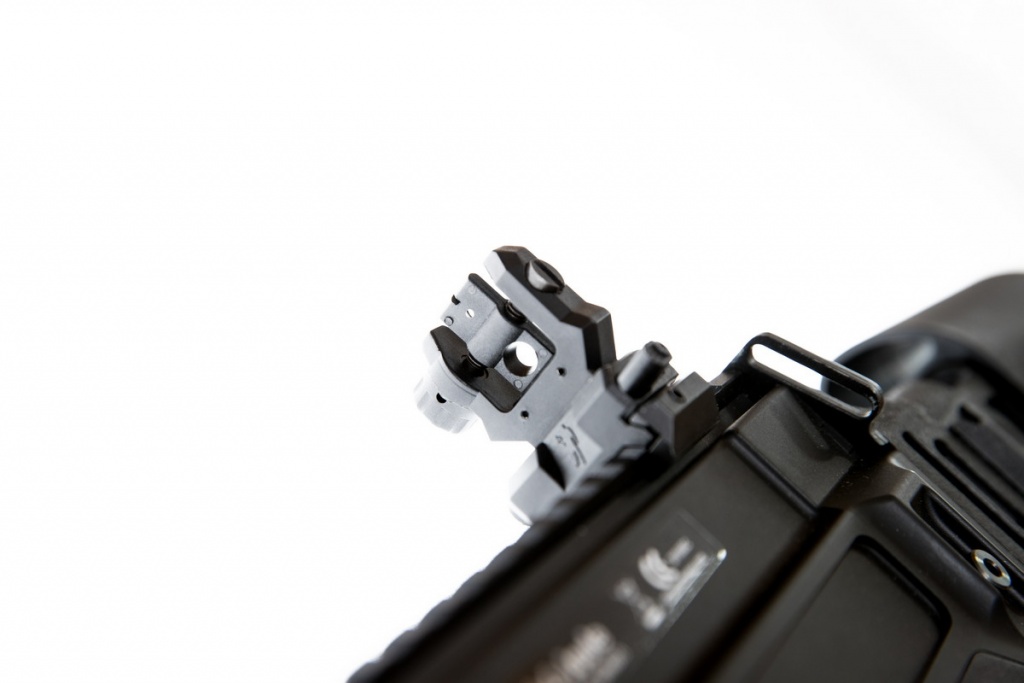 As you can see the magwell is design to accept only dedicated Bren magazines that come in High-Cap flavour but this is easily remedied with the purchase of a new magwell that accepts standard STANAG magazines. M4 magazines for those not fluent in NATO speak.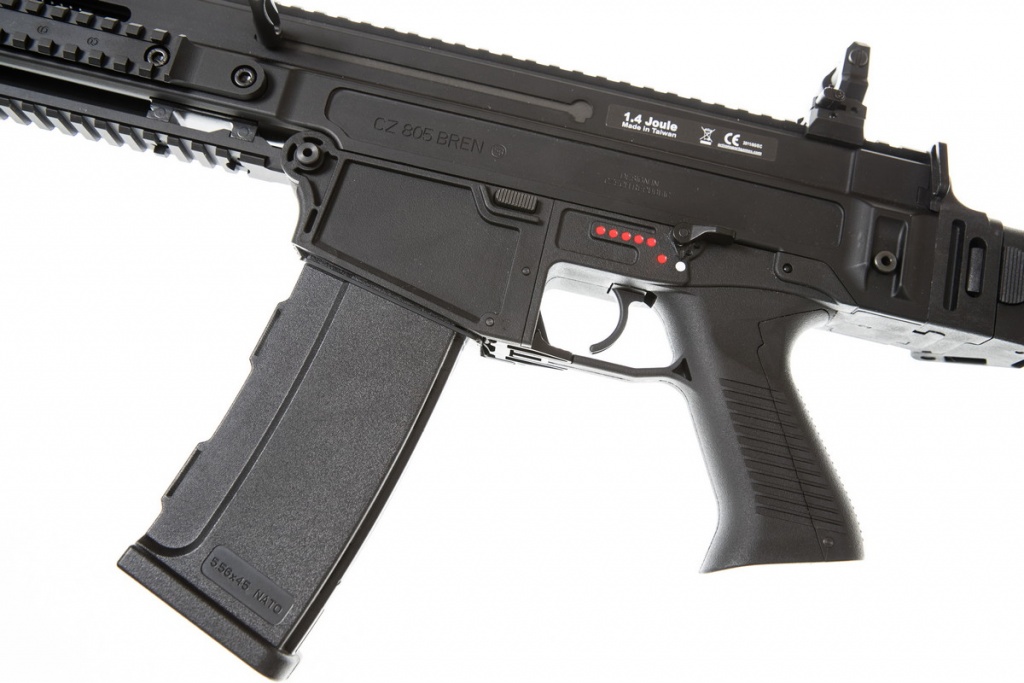 As you can see the gun has a lot of attachment points for slings, front and rear, but they are a bit acquard and will not accept any quick detach variants as is my Magpull MS3 sling. But with the use of some Cordura and ingenuity that is also quickly mended.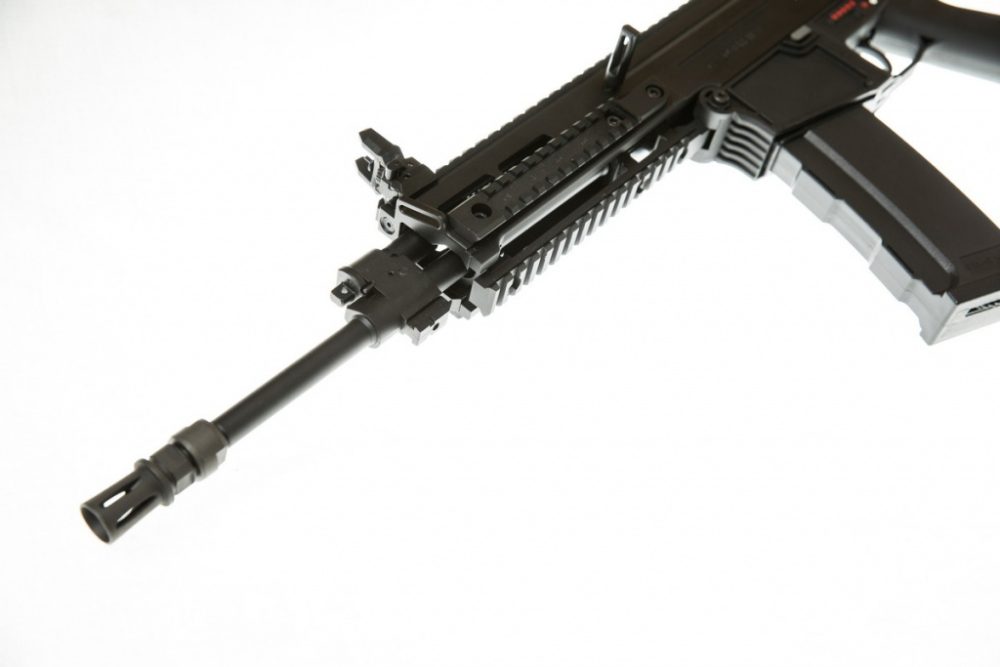 My CZ 805 Bren came in A1 version. That means you have a barrel of standard length (375mm). CZ Bren 805 A2 has a shorter one (310mm) and so is most suitable for CQB engagements. But after some time spent playing in an abandoned hotel in the middle of nowhere with my friends and occasional inquisitive bear I came to conclusion that the longer barrel is not aproblem in these engagements. In the end it is even better, as the precision of the longer barrel helps in taking down those pesky opponents hiding behind run down barricades.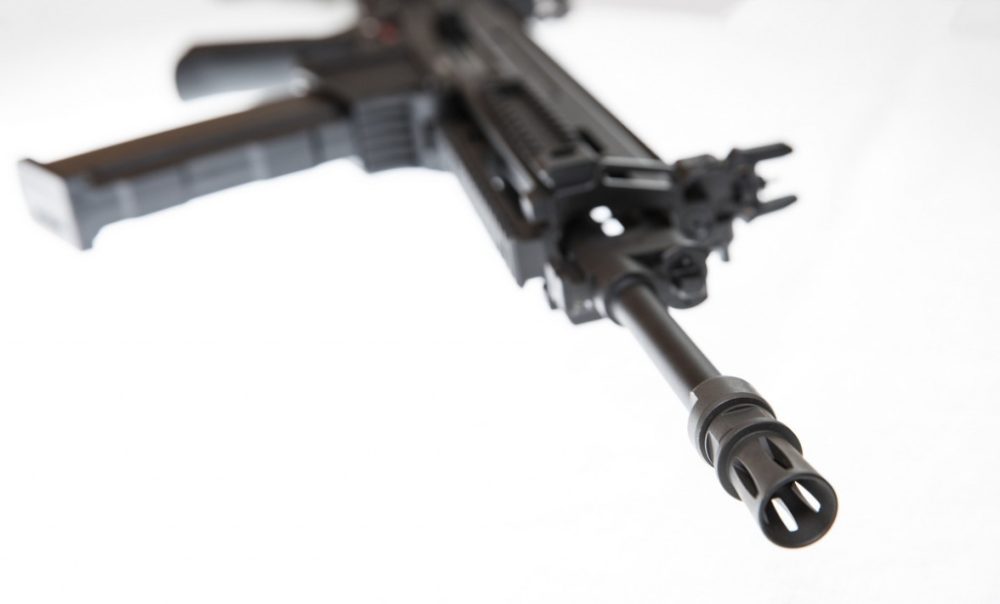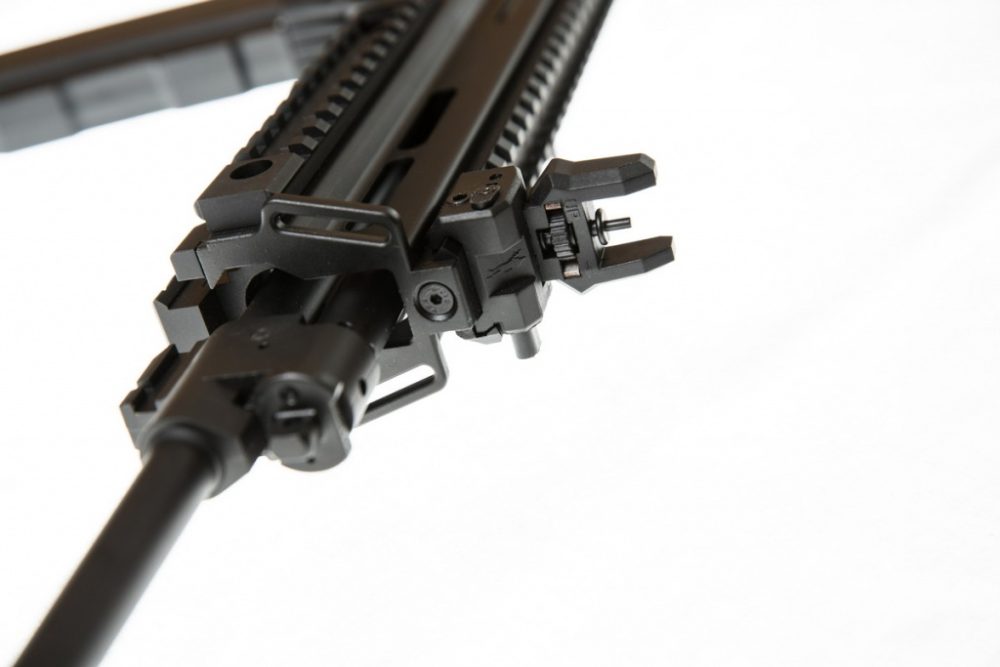 The rail attachments are the standard picatinny ones not the M-Lok or Key-mod ones that lately received the status of a gun fashion statement.
I am a student of the old school, so if someone starts complaining that the rails are making his hand hurt, he is soon on the receiving end of my smashing butstock.
I just love this raw simplicity of Picatinny rails. And on this gun they are almost a work of art.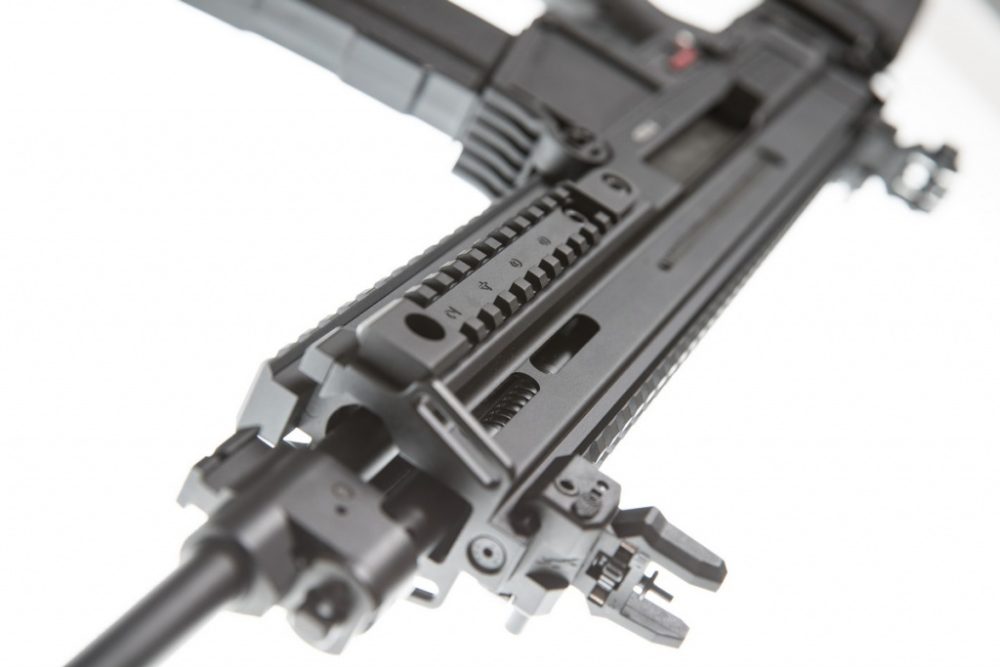 As I mentioned before the biggest problem I had was inability to use my M4 magazines. I usually run around with midcaps so I do not rattle around with higcap magazines and announce my presence to everyone in 20m radius. That doesn't matter when I am playing support, then I have a nice 1000 rounds auto vinding magazine with me and a rattling sound is a nice deterrent. But I digress.
As the new adapter for M4 magazines came out I was first in line for its purchase. So when I got one I took some pictures to show you how easily it can be installed. Without me taking pictures and waiting for sun to shine the whole process would take around 2 minutes.
Here you can see them side by side. The difference is only in the release mechanism. Original has has the release at the bottom, the same as an AK. The magvel dedicated to M4 has the release button on both sides and that makes it ambidextrous.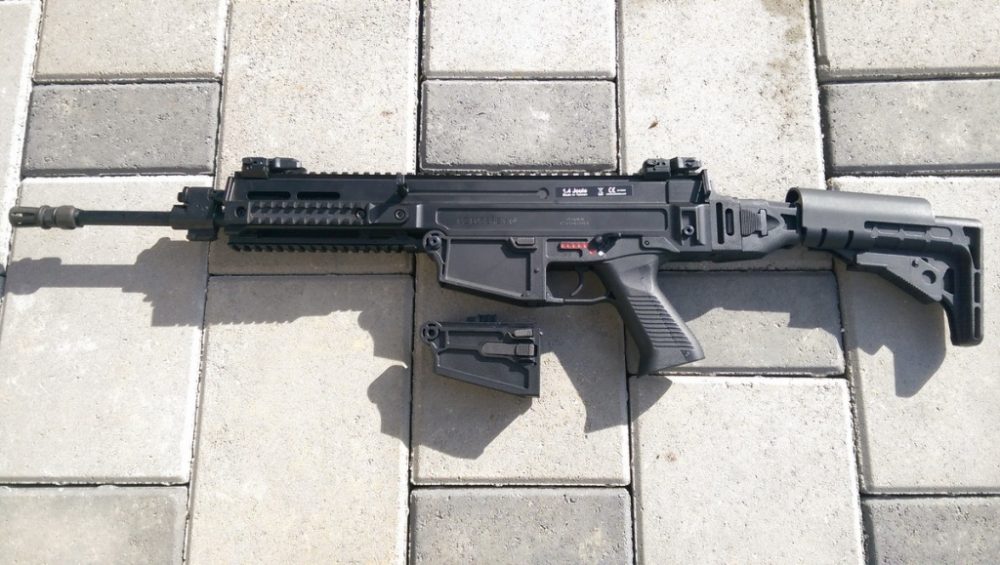 To instal it, I only had to remove two pins. The one that connects the front end of lower receiver to the upper and the pin that is located on the magwell itself.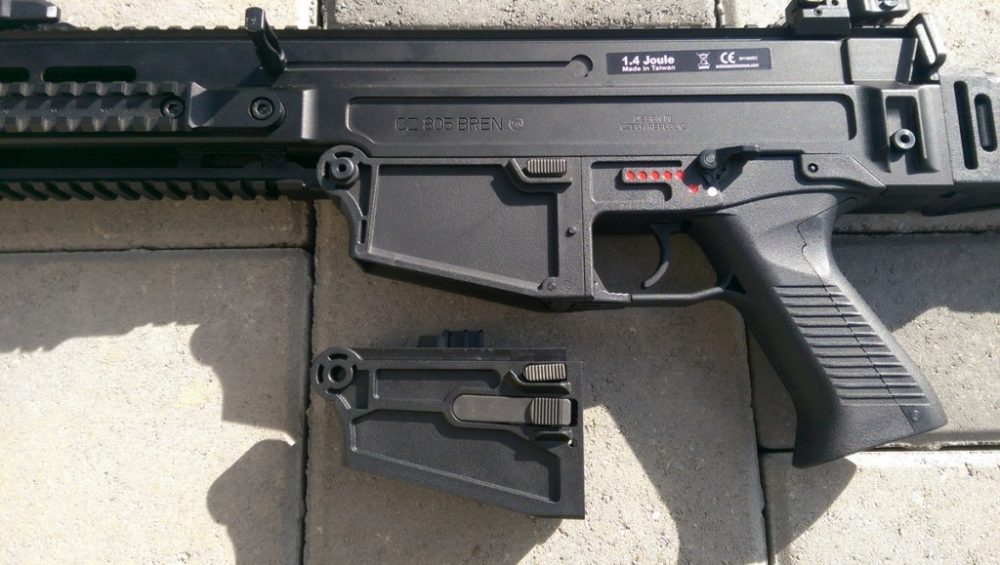 Pinsm are removed, and the old magwell was removed with a bit of a wiggling pull downward.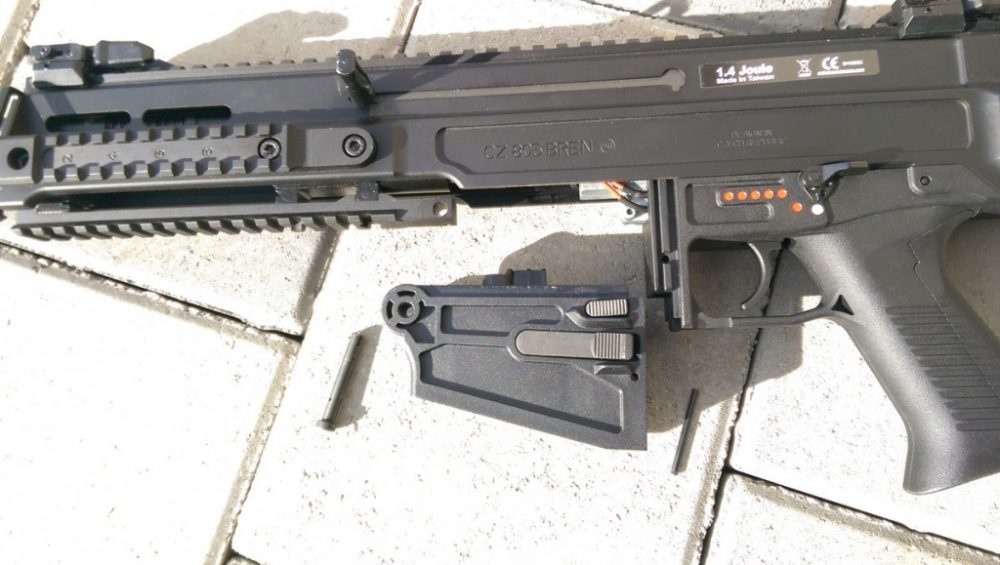 Rails on which the magwell is mounted were a bit stiff but wiggling saves the day again.
And here it is, ready to be fed from stanag magazines.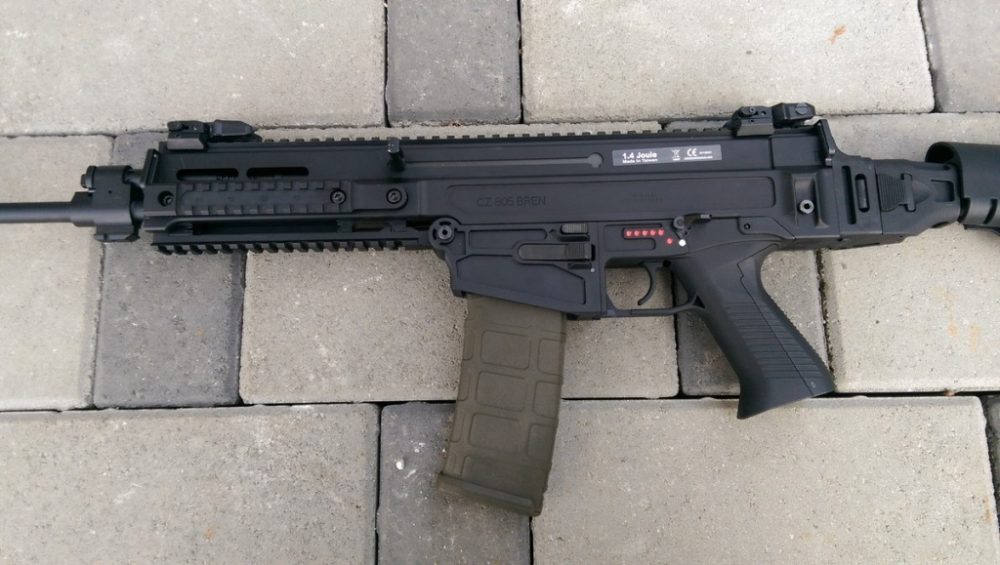 What to say about internals. The gun was commissioned and made by King Arms so you can expect that the V3 gearbox will be up to specs and provide you with a lot of fun before needing any repairs. In 6 months of play I shot in the ball park of around 15000 bbs and came upon on exactly ZERO problems whatsoever. The gun still purrs everytime I pull the trigger and the target on other side sill acknowledges the hit. If you wish to up the power of the gun from the nice 410 FPS it has to something more. Then I must warn you as this operation does not prolongs the lifetime of the gun.
But if you wish it, then the spring change is even easier than the replacement of the magwell.
As with the magwell you will only need to remove two things (stock does not count).
the pin that holds the butstock.
remove the butstock and you will se the quick change screw.
remove the screw and replace the spring
And you are done.
For either upgrade the use of specialized equipment in the form of screwdrivers is not necessary.
And the conclusion.
This gun is awesome. If you wish to part from the everyday use of M4 rifles and still use magazines you have then this is the rifle for you. In my usage in this 6 months I came to these conclusions:
Pros:
nice looking gun, a fresh wind on the battlefield
crisp and responsive selector
responsive trigger
precision is on par with many high end rifles with upgraded inner barrels
battery compartment on top of the gun is easily accessible with easy stock removal. That means no vires in the collapsible stock to get damaged.
easily adjustable collapsible sights. In all this time I have not mounted any optic as I find the sights more than adequate.
quick and easy spring change
Cons:
battery compartment a bit tight so batteries must have specific measures.
sling attachments are a bit acquard
if you want to use STANAG magazines you need to buy a new magwell.
In conclusion the gun is great buy one. No and I am not joking. Despite receiving this gun on the test I would still buy one nevertheless and still be as happy as I am now. Rarely am I so satisfied with an airsoft gun. And that means a lot as I am a die hard fan of Polarstar fusion engine that I possess, but in this 6 months I only played with one when the battery of the Bren was depleted.
In the coming weeks I will publish the teardown of the innards and some more interesting plays from the field. So stay tuned.