The Kriss Vector AEG saga continues or so it would seem. Not much is revealed as all parties involved are kind of keeping a tight lid on things. If we seem to be the tabloid version of airsoft at the moment, we kind of apologize, but it's hard working with so little information without hinting at things and causing problems. Trust us, we'd much rather report on actual facts, preferably with a happy ending for everyone involved. Hopefully lack of statements, facts means things are being resolved and the Kriss Vector AEG will soon hit the shelves and people will not get fired, companies closed and whatever bad comes out of it. So, here goes nothing…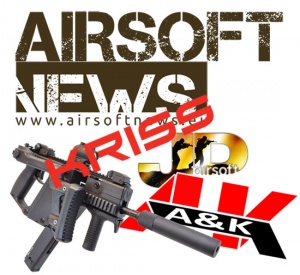 Couple of days ago we gave you info about A&K's Kriss Vector hitting the UK market, so we asked a couple of questions about this item currently the only one alleged supplier in UK – JD Airsoft. Questions were plain and simple :
Good evening, I have couple of questions about that Kriss Vector. On your website / FB page,  you state it is an A&K.  Can you give me the source you are getting those from, who is distributing them in UK, are you importing them? I am writing an article about it and would like to know since A&K gave us info that they are not selling them under their brand and that they are rather producing them for EU based Airsoft Company.

Kind regards

Borut Rozman
Response from them was rather surprising as we were expecting, well, more :
Borut,

Sorry, but we cannot divulge any information at this present moment in time regarding the A&K K5 MOD1 product.

 

JD Team.
Why such a secrecy about this product?  Well, we are really interested how this story will develop and for sure we will keep you posted. Also, it would seem
JD Airsoft
website is down at the time we are posting this, their
FB page
however mentions nothing of website problems. Whether this has anything to do with this situation, we do not know, so for the time being, let's call it a coincidence.