RedWolf continues their awesome new year sale. Every day there is more guns you can buy for cheap. So let's cut the chase and see what useful items you can get for cheap.
Today's desirable item is discounted Tokyo Marui VSR-10 Pro Hunter G Wood Type and believe me. This is the sniper rifle everyone needs to have. Beautiful, precise and much more. You really should get it.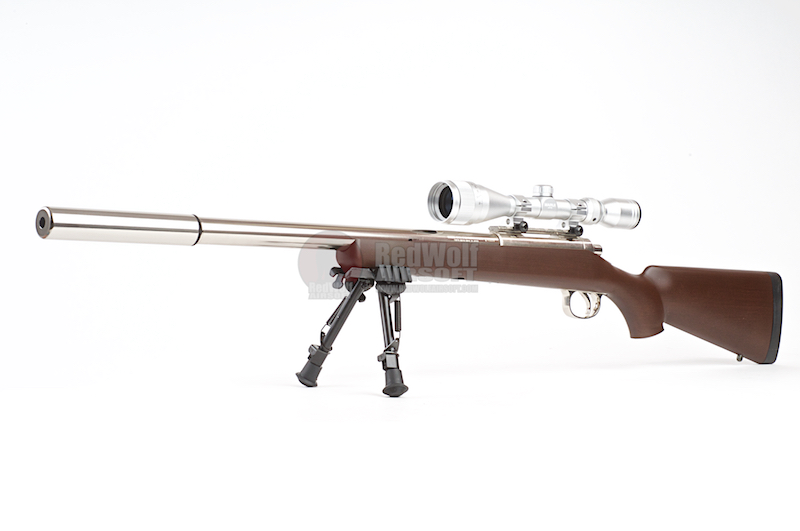 The VSR-10 system was and remains to this day Tokyo Marui's mainstay bolt action system and while others have been added over the years, the VSR-10 series continues to set the bar. This time, it comes with a recording device that allows you to hear the sound of the real gun, so long as you're wearing a headset!
A stock power of 260 fps makes it less powerful then most rifles but with its high accuracy and shot-to-shot consistency it is capable of longer range effective shots then most AEGs of higher power. Of course if you drop in a higher powered spring of your choice, you can crank this thing up to even longer usable range.
There is something different about this Pro Hunter though. As you fire, there is actually a little bit of recoil, which gave us a slight shock when we first fired it. As we've mentioned before, it comes with a sound recording of a real gun shooting, so you'll need to put batteries in the VSR-10 Stock and then in the recording system. Once you attach a headset to it, every time you fire, you'll be able to hear the sound of the real rifle!
This version features a heavy piston which means when it does shoot you can realy feel a shift in the weapon rather then just the light tap that occurs with lighter pistons. Bare in mind that with a decent hop-up like this one, even a little fps can go a long way so try not to get too hung up on the fps number. Switching to a lighter piston will allow a faster movement which increases FPS marginally on the same spring but it will remove the felt movement feature of the stock heavy piston.
The VSR-10 is a very light bolt action rifle system affording it high agility as well as competitive threat rating on the field. It looks good; maybe not as milspec as an L96 but certainly does a good job of filling a more personal tailored look; like many newer TM guns, it even has dummy rifling on the inside of the outer barrel to add a touch of realism. This newer version features more stylizing with the silver finish assembly and scope, the polymer bodies being available in black and brown in the different versions.
Videos and pictures provided by RedWolf.