Just BB Guns is well known airsoft supplier that came in contact with us with the awesome BLACK FRIDAY SALE.
Here is a bit more about them.
WELCOME TO JBBG – AIRSOFT BB GUNS AND ACCESSORIES
Just BB Guns UK (JBBG) is a longstanding, ukrara registered retailer of legal 2 tone and black Pro airsoft guns and accessories. Our collection of authentic replica rifles, pistols and shotguns, all of which are designed to fire 6mm BB pellets, makes up one of the biggest selections available for sale in the UK, sourced from leading manufacturers worldwide. We supply quality tactical airsoft accessories and ancillary equipment to airsoft enthusiasts of all levels, serving the needs of thousands of visitors daily.
Browse through an extensive range of Electric, Gas and Spring guns, along with accompanying information, so you can make the most suitable choice for your needs. Whether you are looking for an airsoft gun for skirmishing or a bb gun for target practice, we have an option suitable for all. We take great pride in the quality of our equipment, which includes ammunition and accessories.
Come and visit our impressive London store located in Feltham, just off the M4 at junction 3, where you can view and test our wide selection of BB guns and accessories, alongside offering professional and unbiased advice to assist you in finding the right products for you. Our huge stockholding consists of an amazing array of products such as Rif guns, sniper rifles, revolvers, grenade launchers, ammo, targets, protective clothing, batteries and chargers, lasers, scopes, mounts and much more, choose JBBG for all your BB and Airsoft Gun needs today.
Don't be fooled by copycat Airsoft websites, JBBG since 2009 – now trading for over seven years!
AND HERE IS THE NEWS YOU WERE HERE ABOUT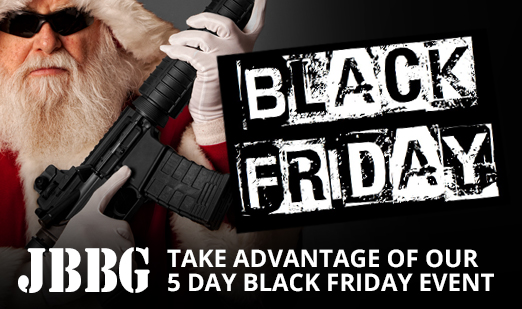 "BLACK FRIDAY AT Just BB Guns UK"
We are pleased to announce that we will be participating in Black Friday again this year – the only difference from last year is that our discounts are BIGGER and BETTER. From Thursday 24th to Monday 28th November we will be offering a large amount of stock at incredible discounted prices, including high end airsoft guns and accessories.
Many AEGs from leading manufactures such as G&G, SRC, ICS will be less than 60% of RRP. Our range of rifle and pistol hard cases will also have exclusive online prices. End of line products such as vests, pouches, straps, goggles and masks will be at clearance prices from just £1!
Products will inevitably sell out fast and we hope to add new products regularly over the 5 day sale period. Product prices are subject to change without warning and are only available if in stock – so the earlier you buy the better.
To take advantage of these incredible offers please visit: https://www.justbbguns.co.uk/black-friday.
For more information on any of our products please see the PRO AIRSOFT SHOP section of our website https://www.justbbguns.co.uk/pro-airsoft-shop.
If you spend over £100 you will also receive free shipping to any UK address!!!
Have a great Christmas and a Happy New Year from all at JBBG… "